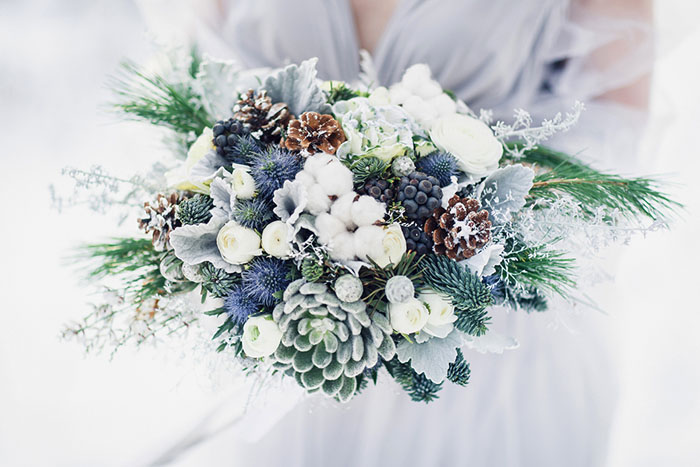 Here in Canada we are so fortunate to get beautiful winter months and glittery snow covered landscapes. Winter time can make a beautiful time to get married. To see some amazing winter wedding flowers that will be perfect for your wedding day keep reading. No matter where you live, there is something extra special about winter. It is one of the most romantic seasons of the year and a great time to plan your wedding! Many believe that because winter brings colder months, the selection of florals brides have to choose from is limited. However, this could not be more false! There are a variety of beautiful winter wedding flowers available for brides everywhere. To help you choose the flowers perfect for your winter wedding,  FTD has created a visual guide that features 21 breathtaking  FTD. From snow-hued anemone to dashing greenery. you are sure to find the perfect florals to make your wedding a winter wonderland!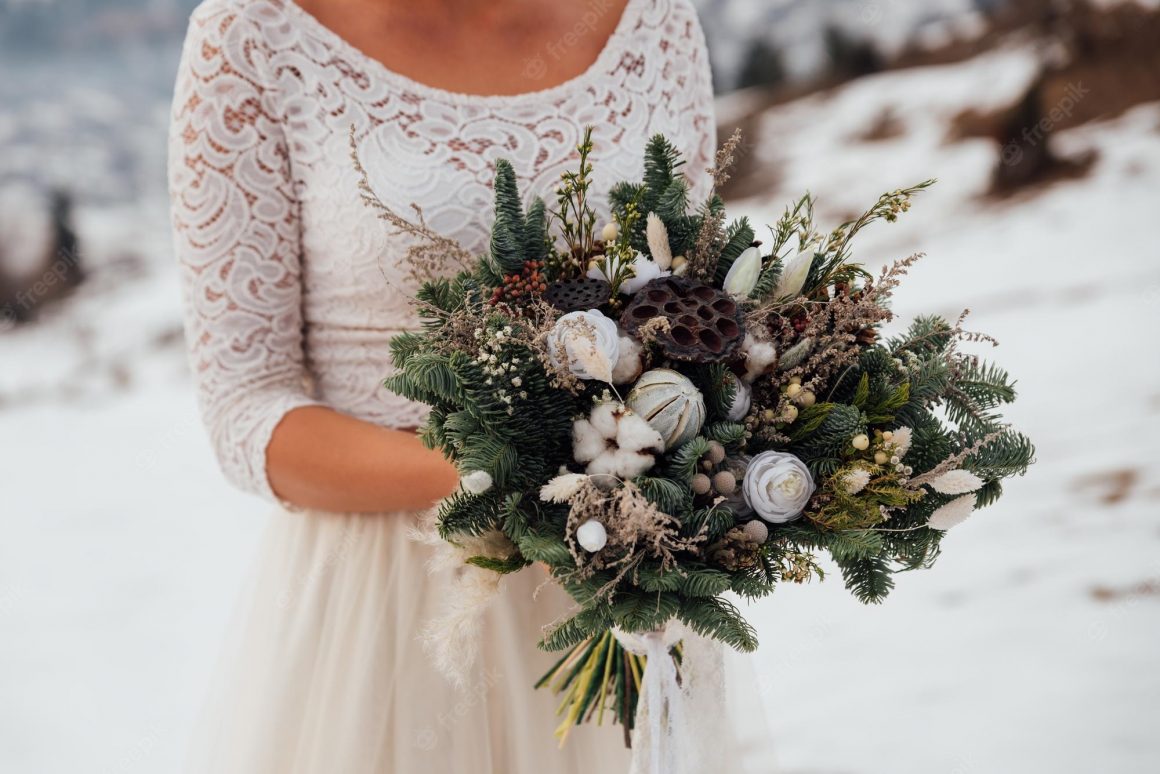 This wild and rustic bouquet is filled with cool tones and some unique floral pieces. The lotus pods and dried artichokes definitely add a nice rustic touch to this bouquet. To add some sparkle to this winter bouquet they spray painted the lotus pods and dried artichokes. Simply add a pretty blue ribbon to compliment the cool tones and tie the bouquet together.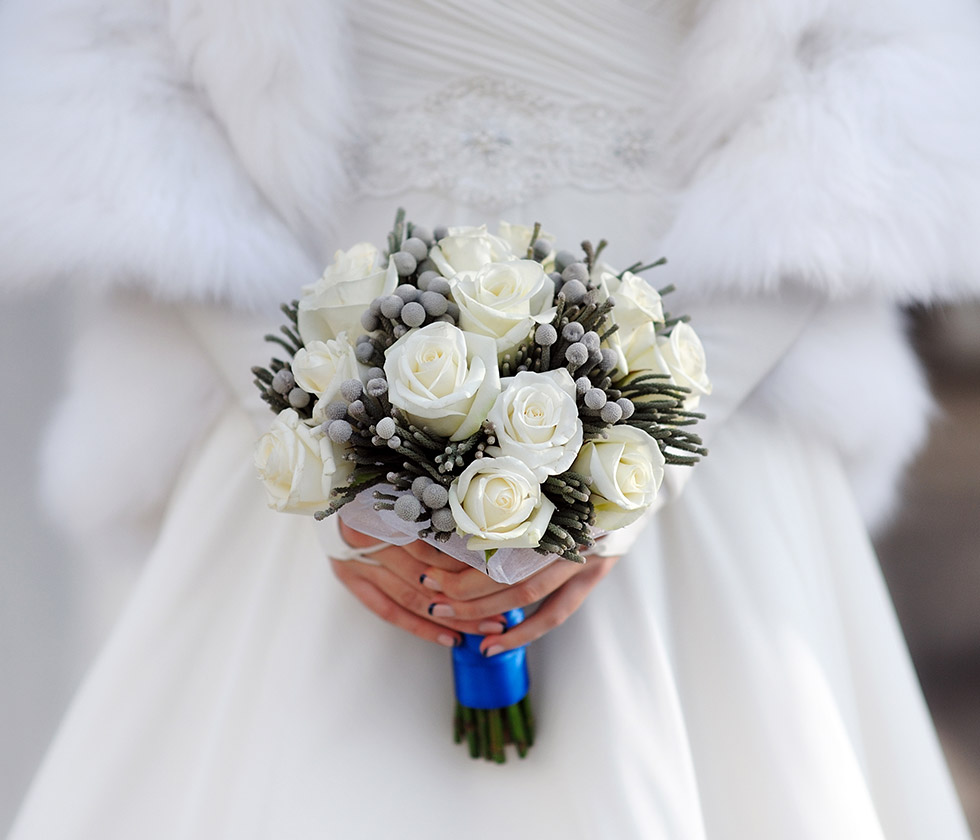 This bouquet right here is full of winter spirit. The light pink and white dahlias are the main focal point of this bouquet and definetly create a statement. Then added in are some more unique pieces like dusty miller and arrowwood vibernum berries. These two florals add a nice touch of winter colors to the bouquet.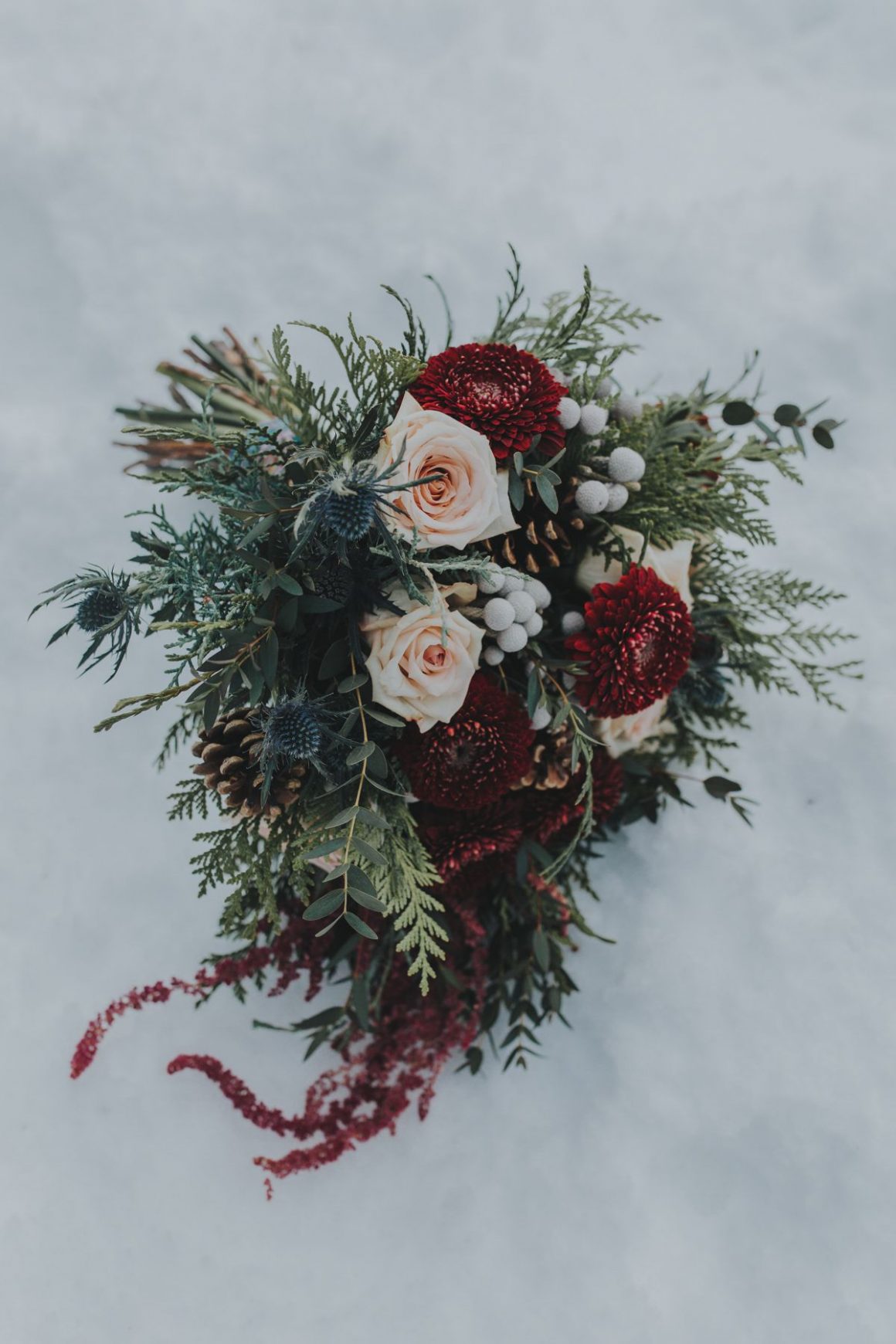 Looking for a more bold winter option? Well this bouquet is for you! It is filled with bright crimson red pieces, dark greens and some pretty pastels. Also adding a nice clean element is the fresh white chrysanthemums. To give this bouquet a bit more of an organic feel they added in some festive silver-dollar eucalyptus.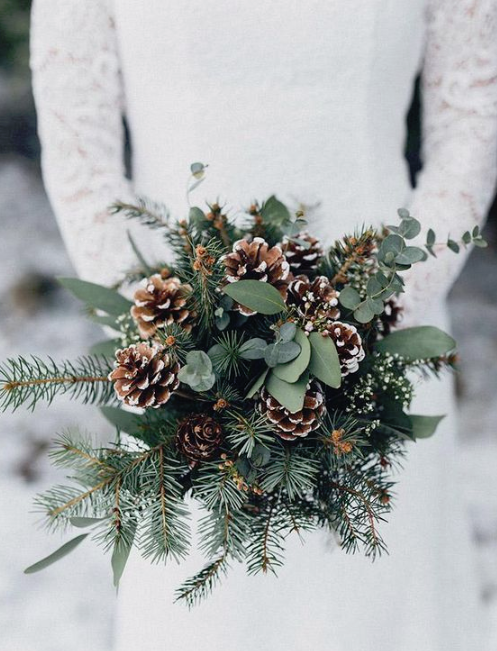 This bouquet is by far my favorite winter bouquet. Neutrals and muted colors are always my top pick, they go with any style or any another colors. To keep this bouquet on the more subtle side they used white, pastel and golden colored garden roses and some pretty greens to add texture. By also adding in the blue berries next to all these neutral colors gives the bouquet a little depth.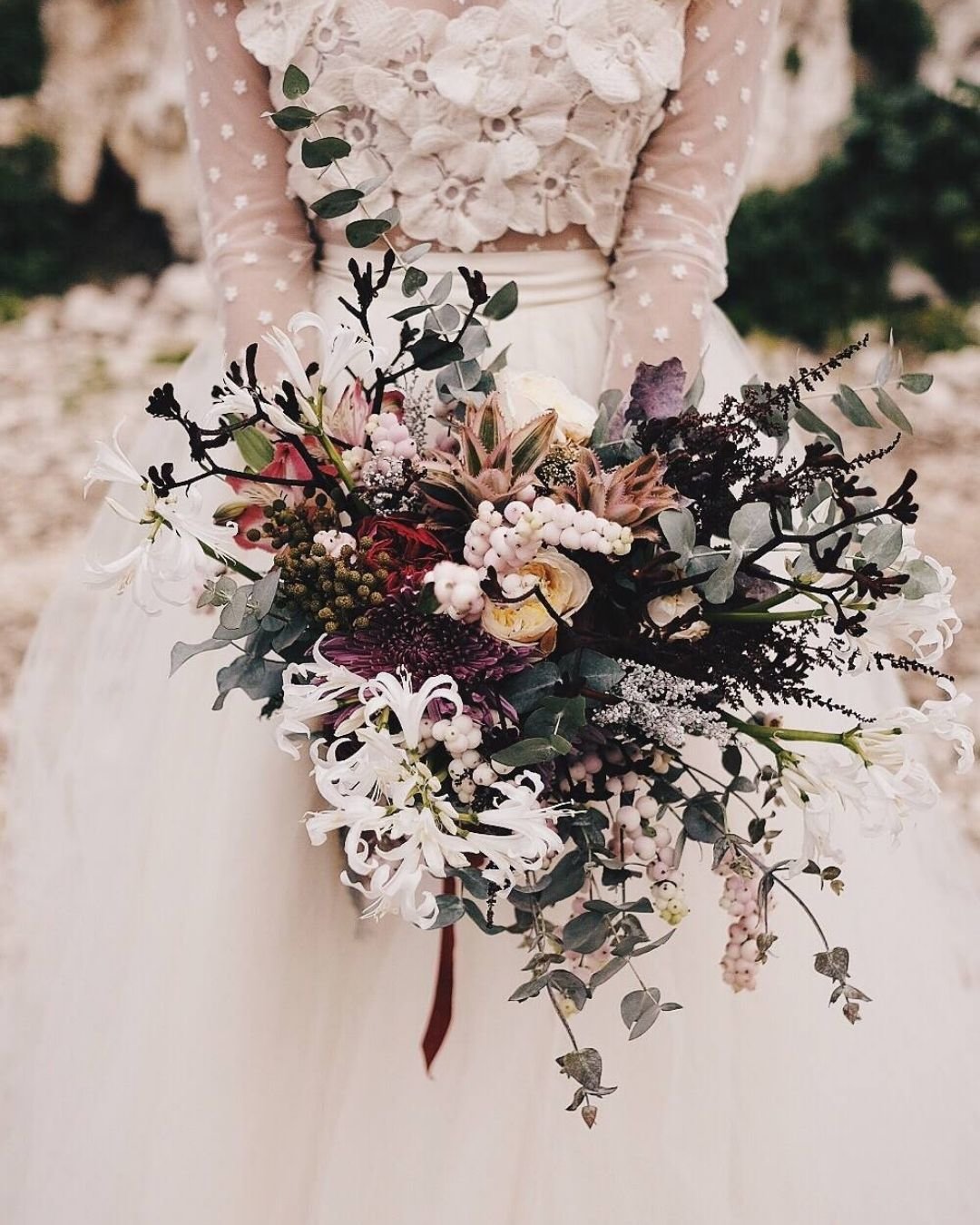 Seasonal green tones give this bouquet a festive vibe and the large hydrangea and pink cockscomb add some drama. To create a little whimsy into this arrangement they chose to add some feathery astilbe. I also love how they included some natural pieces like Scabiosa pods.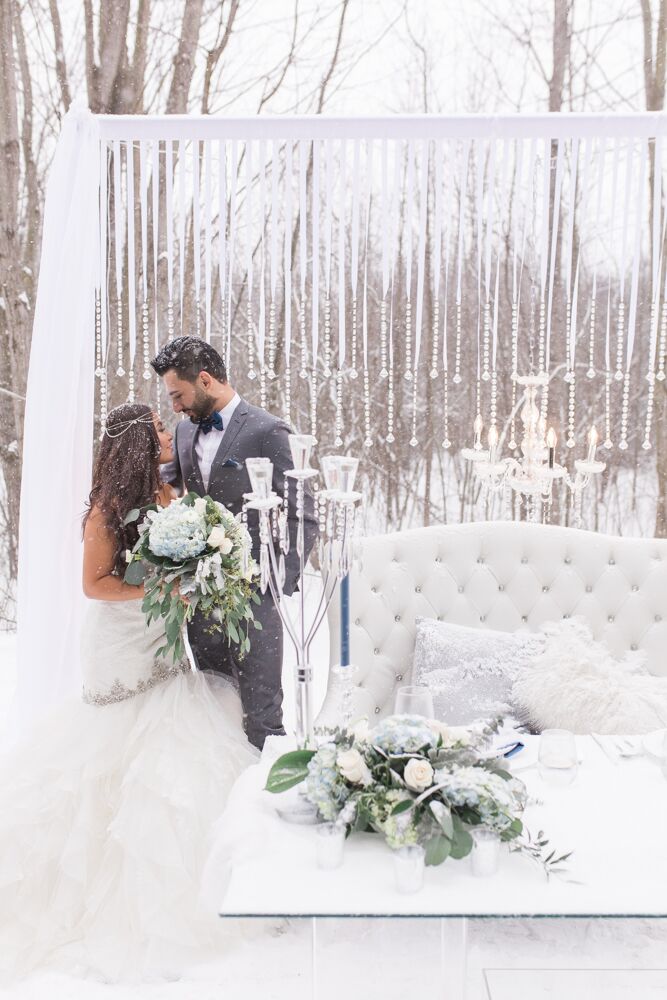 Modern with unique details is the only way to describe this arrangement. I can not get enough of the burgundy kangaroo paws, they are like nothing I have ever seen before. The white roses and white bunches of Queen Anne's lace give this bouquet a crisp winter look.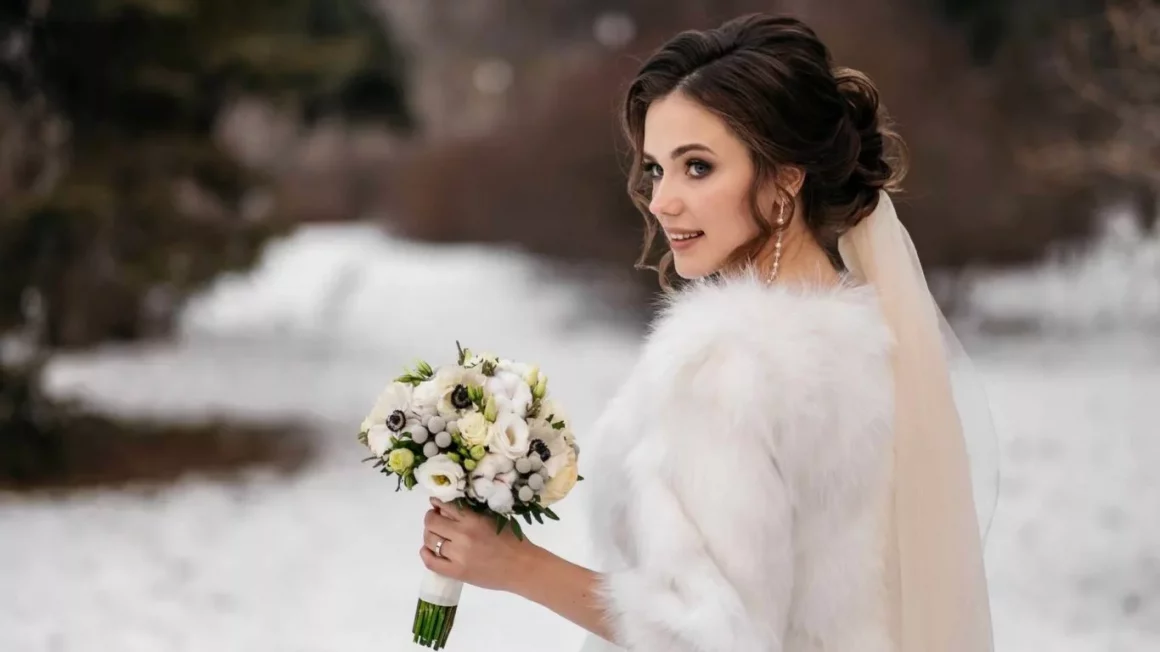 This bouquet screams elegance, romance and drama. Using Japanese lisianthus', scabiosas, anemones and roses help create a lush and full piece. Then to create some loose texture they used different greenery.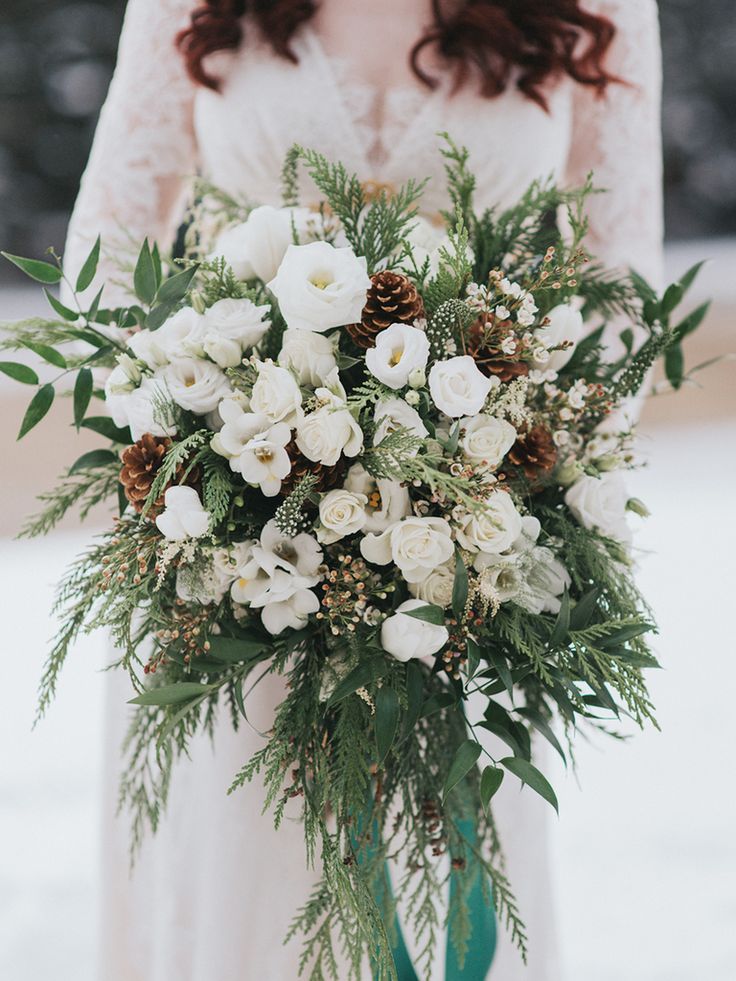 Major thanks again to FTD for sharing all these perfect flowers for any winter wonderland wedding. If you want to see more wedding flower inspiration check out this