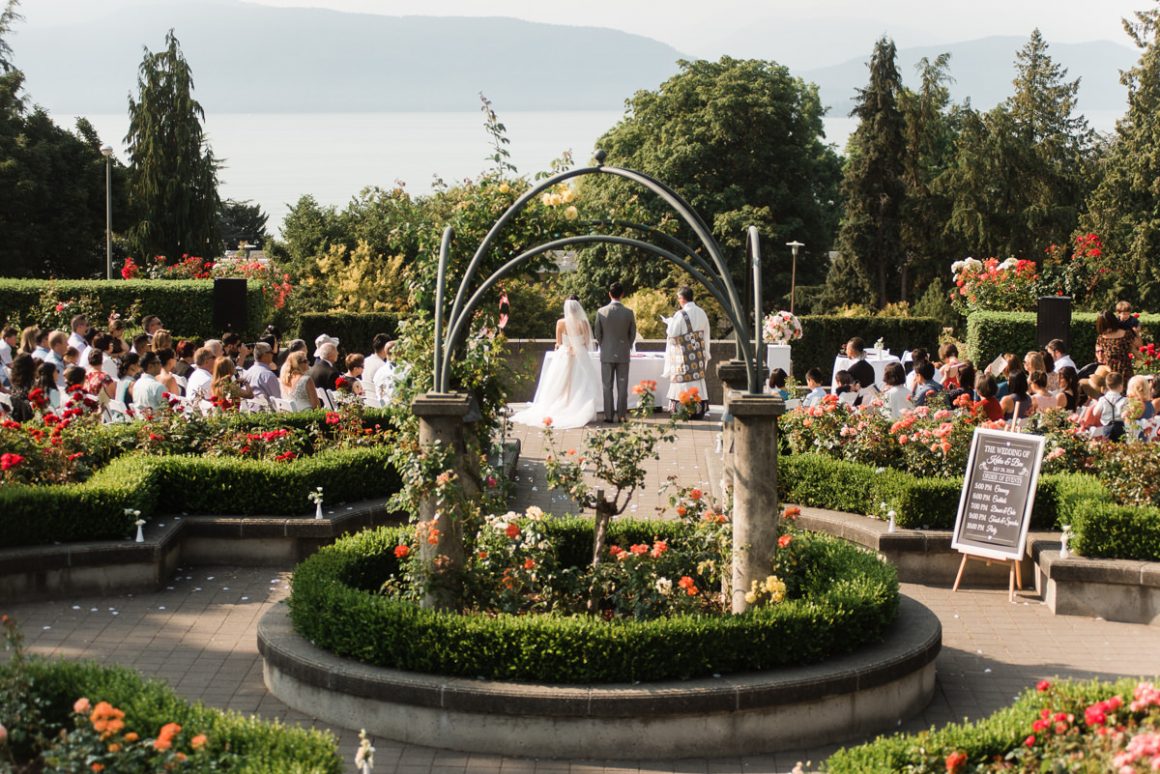 Marc and Flora dreamed of having a relaxed west coast wedding day for all to enjoy. Using soft pastel colours and getting married in a beautiful rose garden created the relaxed atmosphere. With the North Shore Mountain views as a backdrop it gave this wedding that awesome west coast vibe. Love Tree Photography made sure to document all the amazing moments from the whole day and I can't wait for you all to see them! 
The proposal…
Marc recreated our first date for the proposal. After a fancy dinner, we traveled back home and watched a re-run of the movie from our first date. Marc had decorated the living room with candles and string lights for a romantic vibe. After the movie ended, he took us on a night drive to a look out where we had often visited throughout the years. We got out of the car and walked over the the lookout and that's when he got down on one knee. The proposal itself was really special and intimate because it was just the two of us there.
What was your favourite memory of the wedding day?
From the bride, Flora…The whole day was just perfect but if I had to choose one moment then my favorite would have to be when I walked down the aisle with my dad. He could feel that I was nervous, so he quietly hummed a song to me which helped me feel more relaxed. It was a special moment between my dad and I.
From the groom, Marc…My favourite moment followed immediately after the garter toss, when the groomsmen caught me by surprise and tackled me to the ground and cut the toe off my sock. Don't ask, it's an old Danish tradition.
If you had one piece of advice for another couple planning a wedding what would it be?
Enjoy every minute of it, even when the planning process gets tough, try to remember what really matters at the end of it all. Remember that your wedding day is about the celebration of you and your partner's love for each other.
Congratulations to Marc and Flora on their stunning wedding day!!!
VENDORS
Photographer – Love Tree Photography // @lovetreephotos
Design and Decor – Dream Day Designs
Cake Designer – Jenny Bakes // @jenny_bakes
Jewelry – Ben Moss // @benmossjewellers
Tuxedo and Mens Attire – Black and Lee Tuxedos // @blackandlee
Tuxedo and Mens Attire – Indochino // @indochino
Bridesmaid Dresses – David's Bridal // @davidsbridal
Dress Store – Lisa's Bridal // @lisasbridal
Floral Designer – Floral Design by Lili // @floraldesignbylili
Caterer – Sage Bistro
Event Venue – UBC Rose Garden