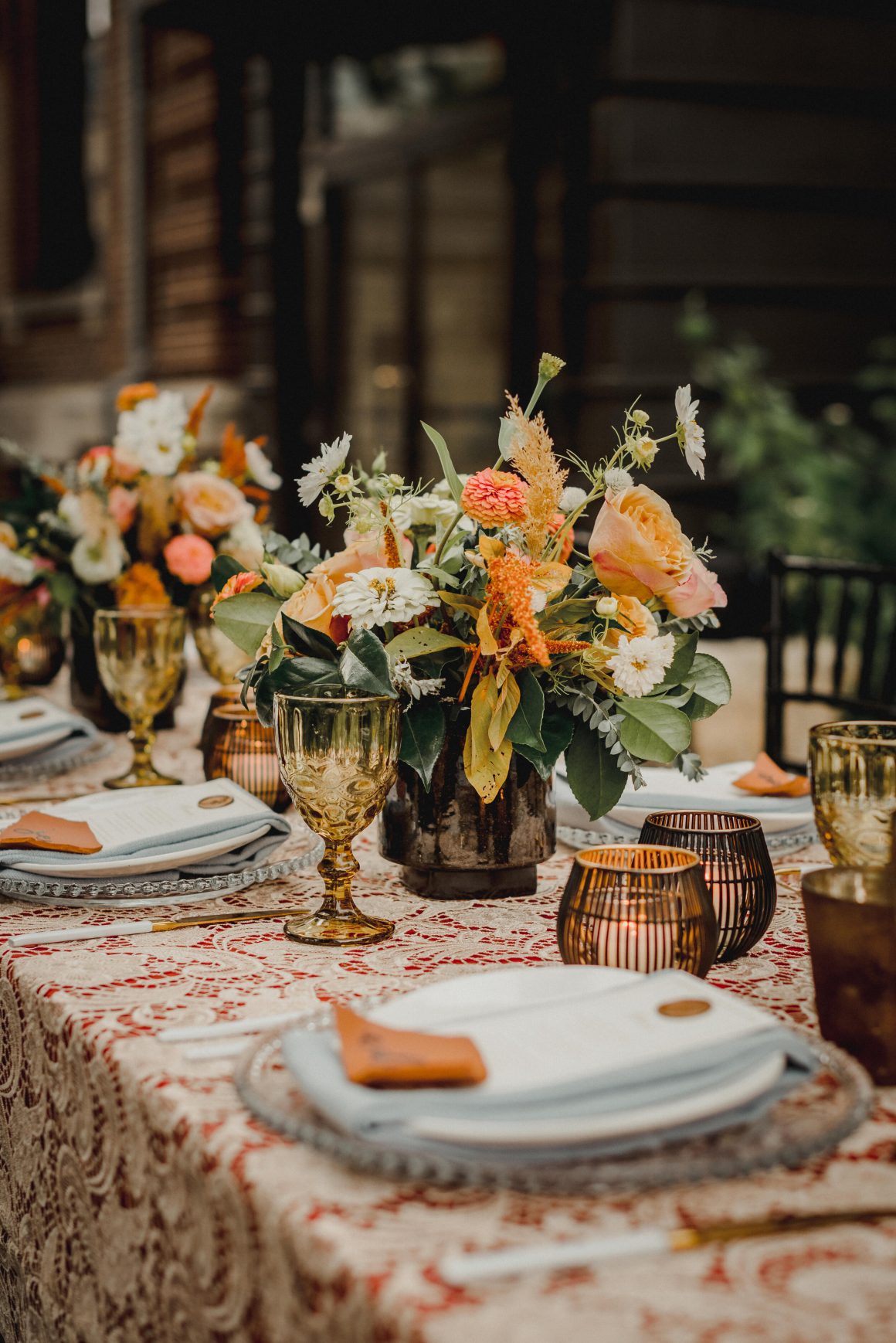 I am so excited to share today's feature with you all! This bohemian gypsy shoot is full of amazing creative ideas. All the details that Luxe Images by Jill put together are absolutely incredible. You can tell a lot of time and effort went in to making this shoot perfect. Tons of awesome vendors helped pull off this shoot so make sure to them all out at the bottom of this blogpost.
Jill shares…This shoot was inspired by this vintage fur coat I had gotten at Value Village a few years ago, and a European skull mount my husband brought home (he is an avid hunter but his animal mounts do not go with my home decor, I think he was trying to be contemporary with this European Skull Mount in hopes to break me!), looking at these two items side by side I immediately felt boho, gypsy, something under a tent, jewel tones, antiques, random gorgeous chaos!  I gathered all the pieces, found amazing vendors to be involved and asked 14 models/non models to pose for me.  It took many helping hands but was so much fun.  The site we shot it on was an old farm site in a small town I grew up in.   The buildings were being burnt down so it was nostalgic to shoot there. 
There more boho vibes on the blog so feel free to check out this 10 year anniversary post.
VENDORS
Photography, Styling and Attire – Luxe Images By Jill // @jilldemianiw
Hair- HQ Style Lounge // @hqstylelounge
Makeup – Primped & Polished (Bobbi & Jodie Eveline) // @primpedndpolished @makeupbyjodieb
Props – Creating A Scene // @creatingascene_wpg
Draping – Unique Events Winnipeg
Stationary – Lily Blossom Press // @lilyblossompress
Jewelry – Love Sheds // @lovesheds Favors / Crafts – @brittni_02
Vintage Wedding Gown – Pearl & Birch // @pearlandbirch
Dreamcatchers – Autumn and Lily Designs // @autumnandlilydesigns
Childrens Attire – @marlene_nikkel
Florals – The Floral Fixx // @thefloralfixx