I always get a little excited when I see Jennifer Georgette Photography's name pop up in our email because she always has something super amazing to submit! And this moody mountain Canmore wedding is no exception. The colors and style of this mountain wedding is just so stunning.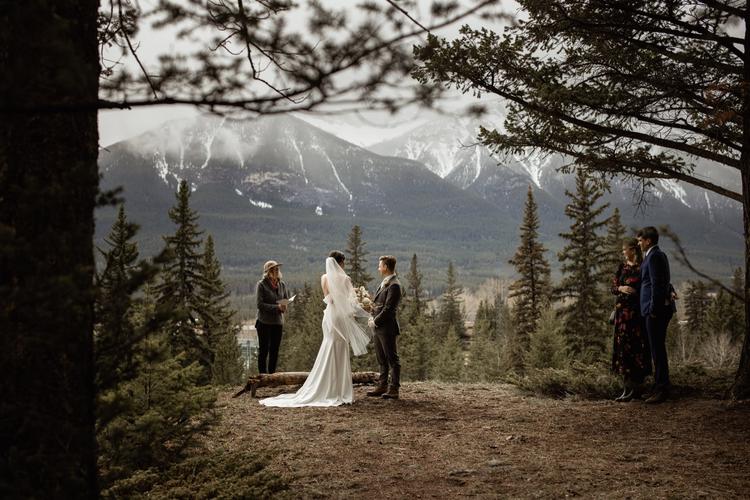 Amanda the bride looked absolutely gorgeous in her strapless gown and those bridesmaid dresses are to die for. We of course can't forget about the men, Johann looked so handsome in his grey suit and burgundy bow tie. This was definitely one amazing looking wedding party!
The mountains always provide such a stunning back drop for a wedding but with the added florals by Willow Flower Company it just made it that much more glamorous. You won't want to miss Amanda's amazing flower crown! This cute couple definitely put a lot of effort into the details and it paid off. We are obsessed with their sparkler exit.
Jennifer Georgette Photography shares…"I met the groom quite a few years back (he just so happens to be my brother in laws brother!) So when I found out he was engaged to the beautiful Amanda I was beyond excited that they chose me to photograph their big day. Amanda and Johann both met in Saskatchewan while working as nurses. At first they were planning a destination wedding but then decided on the beautiful Rockies and in particular, Stewart Creek Golf Course. We headed out the day before to check out the rehearsal and as well try and pick out a few spots around Canmore to do some pictures.
All week the weather had been saying sunny but then that day we ended up having an extreme weather warning for freezing rain for most of Alberta. I am all about shooting in stormy weather but freezing rain does tend to put a damper on spirits. We woke up in the morning to big fluffy snow and headed to Solara Resort and Spa to capture the getting ready photos. By the time they were finished getting ready the snow had cleared and you could see the stunning mountains with some sun peeking through. The ceremony was beautiful and I may have shed a few tears.
For the pictures we headed out on the party bus to Quarry Lake and then to the old Railway Bridge.
After pictures we headed back to the reception for some cake and then a super fun sparkler exit!"
Big congratulations to Amanda and Johann! And huge thanks to Jennnifer Georgette Photography for letting us share these beautiful images she captured.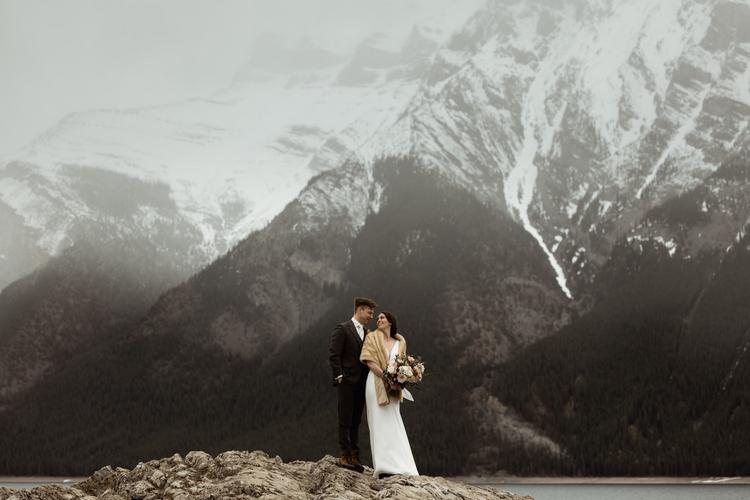 Vendors
Photography: Jennifer Georgette Photography // @jennifergeorgettephoto
Hair/Makeup: The Pretty Haus // @theprettyhaus
Flowers: Willow Flower Company // @willowflowerco
Getting Ready Location: Solara Resort and Spa // @solararesort
Ceremony/Reception Venue: Stewart Creek Golf Country Club // @stewartcreekgolf
Bride's Harry Potter themed shoes: TOMS // @toms
Limo: AMPM Limousines
Bridesmaid Dresses: NWL Dresses // @nwldresses
Bride's Nails: Rapunzels Salon and Spa // @rapunzelscanmore
Cake: Cake Creations // @cakecreationscanmore
Tuxes: Moores Clothing // @mooresclothing
Invites: Oh Lilly Designs Etsy // @ohlillydesigns
Commissioner: Canmore Ceremonies
Customized Hanger: Almas Weddings Etsy