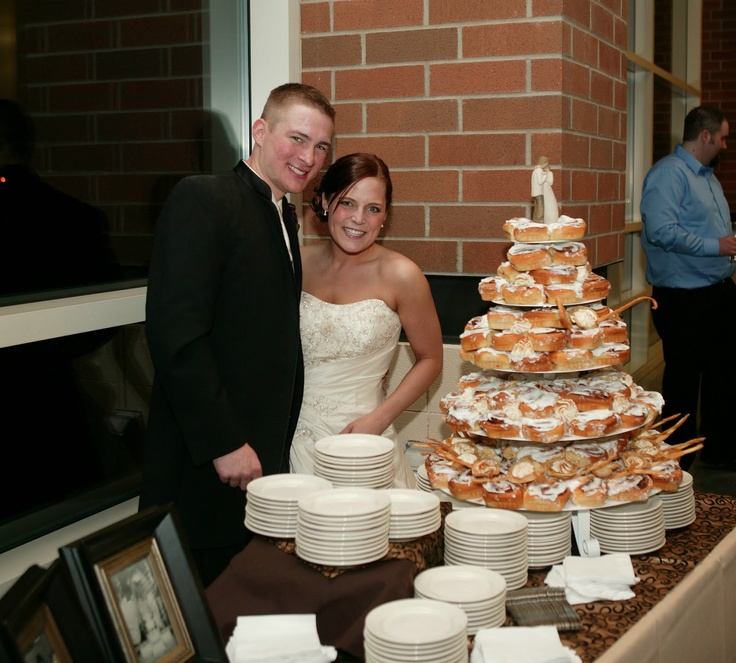 How amazing does mini cinnamon rolls and tea sound? These maple iced mini cinnamon buns make the cutest  and most delicious addition to a bridal shower. They're warm, sweet and covered in the yummiest maple icing. Everyone is bound to love these little guys.  This recipe is super easy to make and takes no time at all. These little gems could also make some great D.I.Y. wedding favors.
For this recipe you are going to need: tube of crescent roll dough, cinnamon, sugar, brown sugar, butter, rolling pin, mini muffin tin.  (I mixed the cinnamon and white sugar together)
Open and separate your crescent roll dough in half. Lay triangles flat next to each other. Now pinch the seams together.
Next grab your rolling pin and roll the dough out.
Brush the dough with half the butter and save the other half for the rest of the dough.
Now sprinkle the dough with cinnamon, white sugar and brown sugar. You can decide how much you would like to add. I used about 2 Tablespoons of cinnamon and 3 Tablespoons of brown sugar.
Start rolling the dough into one large log. Then start cutting the log into even slices.
Place the rolls into a non-stick mini muffin pan and bake. I followed the baking directions on the back of my crescent roll tube.
While those are in the oven baking you can start mixing up the yummy maple icing.
For the icing you will need: 1 Teaspoon Maple Syrup, 1 Tablespoon milk ( I used 1% but you could use skim also), 3/4 Cup of icing sugar.
Mix the milk and maple syrup together.
Now add the icing sugar and mix all together.
After about 10 minutes my mini cinnamon rolls were done and I then drizzled the icing all over them. Repeat these steps on the last half of the dough.
INGREDIENTS
(MAKES APPROX. 18-24 MINI CINNAMON ROLLS, DEPENDING ON HOW THIN YOU SLICE) TUBE CRESCENT ROLL DOUGH 2 TABLESPONS BUTTER CINNAMON (MIXED WITH WHITE SUGAR) BROWN SUGAR 1 TABLESPOON MILK 1 TEASPOON MAPLE SYRUP
3/4 CUP ICING SUGAR
INSTRUCTIONS
1. GATHER ALL YOUR INGREDIENTS 2. PREHEAT OVEN ACCORDING TO CRESCENT ROLL PACKAGE DIRECTIONS 3. LAY HALF OF DOUGH OUT AND PINCH SEAMS TOGETHER. 4. USE A ROLLING PIN SMOOTH PINCHED SEAMS AND ROLL DOUGH OUT 5. BRUSH WITH HALF THE BUTTER, SPRINKLE WITH CINNAMON AND BROWN SUGAR. 6. ROLL INTO A LARGE LOG AND SLICE INTO EVEN PIECES 7. PLACE SLICED PIECES INTO A NON-STICK MINI MUFFIN PAN AND BAKE ACCORDING TO PACKAGE (MINE TOOK 10 MINUTES A PAN) 8. MEANWHILE WHISK MILK AND MAPLE SYRUP TOGETHER THEN ADD ICING SUGAR AND MIX 9. TAKE ROLLS OUT OF OVEN AND DRIZZLE WITH MAPLE ICING
10. REPEAT WITH OTHER HALF OF DOUGH