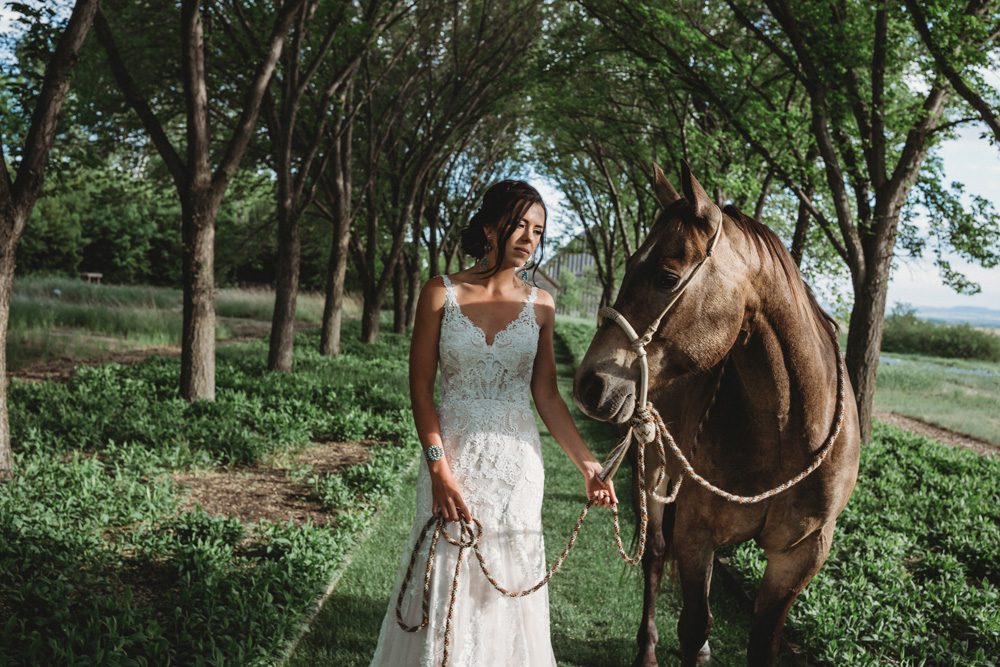 October is the perfect time for rich colours and all the edgy country details! I am so obsessed with this new bridal portrait shoot trend that is happening right now and this one has a wildly romantic vibe going on. Plus this feature from Twisted Tree Photography has a line up of epic vendors and creatives who worked their butts off on this shoot!
From Twisted Tree Photography…Using a classic palette of wine, dusty rose, and sage, a group of exceptionally talented women came together to to create a dreamy, bold and unique styled shoot. The elegantly landscaped, Coutt's Centre of Western Canadian Heritage's expansive grounds allows for a beautiful and textural backdrop. Mixing in the rich colors of this moody palette, and the varying textiles of feathers and leather, everything pulled together to look sophisticated yet effortless. The edgy and eye-catching bouquet, was one of a kind a true masterpiece, held together with a stunningly hand tooled leather wrap. The mix of the varying components, textiles and unique subtleties creates a wildly romantic vibe that comes through in every photo. There are no limits to the details. Bringing in pieces (or elements such a horses or hats) that are truly special, created the perfect opportunity to add a beautiful level of passion, rarity, and extraordinary to this shoot!
Want a little more country bridal inspiration? Check out this Southern Alberta shoot.
VENDORS
Photography – Twisted Tree Photography // @twistedtreefoto
Makeup – Jordan Dean Makeup Artistry // @jordandeanmakeupartistry
Hair – Sage Woolsey // @hairbysagewoolsey
Model -Wildrose Retro (Shelby Berrecloth) // @wildroseretro
Dresses – Cottonwood Bridal High River // @cottonwoodbridal
Boots/feather earrings/cowhide chair – Cody & Sioux //@codyandsioux / @doubledranch
Cake – Susan Johanson // @suejolicious
Day of Planning – KG Design Inc // @kgdesigninc
Giftboxes – boxSmith // @boxsmithca
Floral – Juniper Flower & Garden Studio // @junipergardenstudio
Floral Wrap – Prairie Rose Custom Leather & Beadwork // @prairieroseleatherandbead
Location – U of L (Coutt's Centre of Western Canadian Heritage) // @couttscentre
Props/Table –All Through the House // @allthruthehouse
Props/styling help –Bertie's General Store + Banjolena's Closet // @bertiesgeneralstore + @banjolenascloset
Horse (Denny) – Riley Harvie // @rileyharvie9
Jewelry (white buffalo ring) –Bad Hoss Silver // @badhoss_silver