There is just something so amazing about small town weddings and this rustic, fun outdoor wedding does not disappoint. Colleen and Ryan got married in a friends backyard. They had a beautiful homemade arch with ribbons hanging from it when guests entered the ceremony area. Then they got married under another beautiful arch made my her father, such an amazing personal touch. Amara Dirks Photography captured many special moments and we thank her for sharing them with us!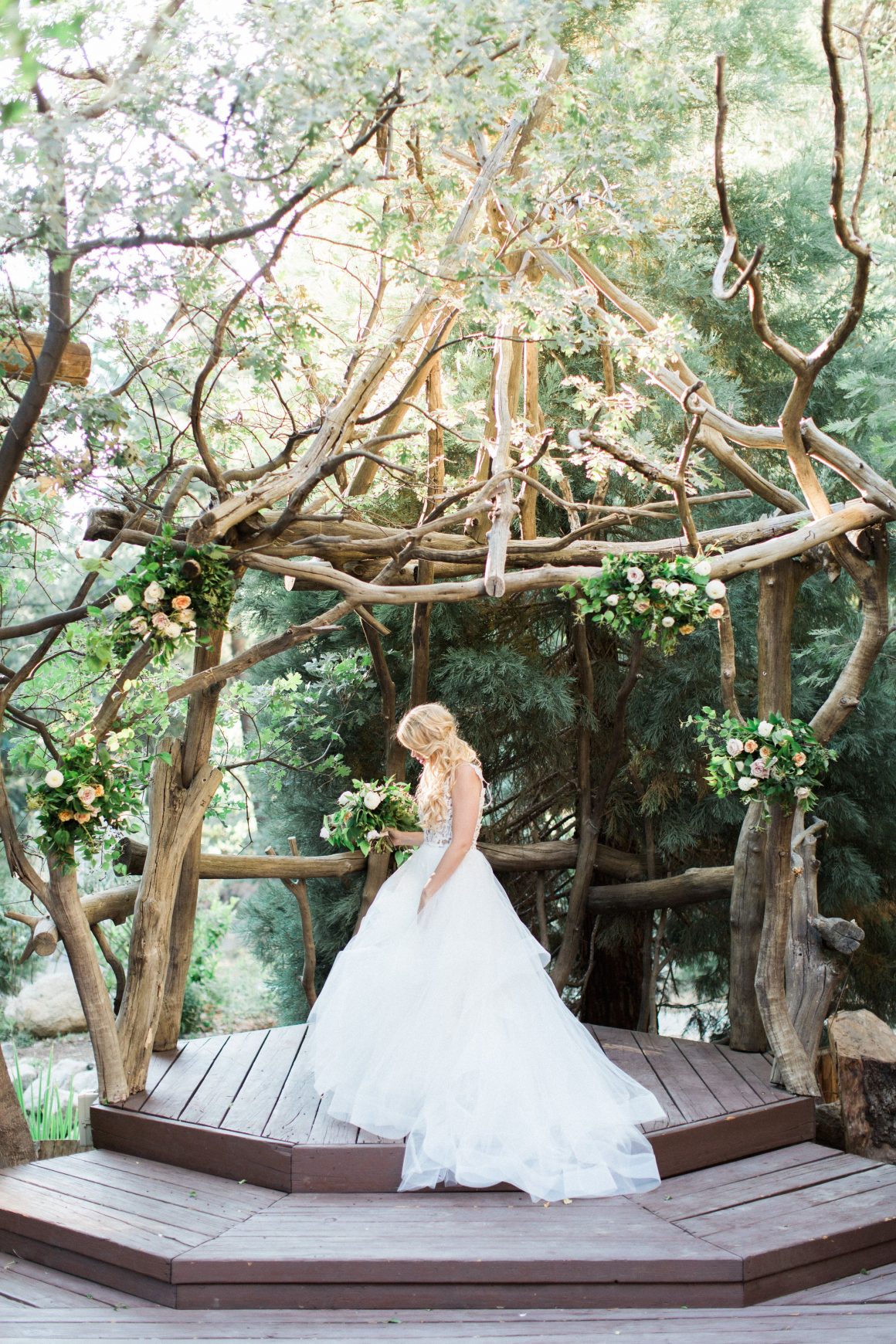 Colleen looked stunning in her ball gown and her bridesmaid's had gorgeous mixed and matched dresses. Ryan and his groomsmen looked super handsome. They wore grey suits with ivory shirts and vests. What a great looking wedding party!
Colleen's dad made all the reception centerpieces and people could take them home at the end of the night. Isn't Colleen's dad awesome? They also had seed paper dill and basil pots as favors. A couple of highlights from the reception was the Caesar bar and chili dog midnight lunch!
Amara Dirks Photography shares…"From the moment we met and bonded over our love of Caesars, I knew that working with both Colleen and Ryan was going to be a breeze. It truly was. She had two important things on her agenda. #1 – Marry Ryan #2 – Have me photograph it. The rest was merely fluff 😉
I can easily bond with people who fear or dislike the camera as I share the same anxiety, and though I had asked Ryan a few times if he were in fact breathing, the shyness quickly dissipated and we were off. Colleen, she's just stunning. Period. From the moment she looked at him as she came down the aisle, to the bursts of laughter and quiet little tears streaming down her face, this day was all that and more.
These two, along with their very well chosen bridal party were exceptional to work with and made the day run flawlessly!"
We love getting to hear from the bride and this is what Colleen had to say about her special day…"I met Ryan at a baseball game, close to six years ago. He was playing for the Westlock Red Lions and I was a first year teacher who had needed an escape from my classroom and the marking piles that just kept growing. A mutual friend convinced both of us to go for a drink after the game and I got to meet the guy with the nice "baseball butt" I had been admiring throughout the game. We started playing on the same slo-pitch team and doing a lot of camping and hiking together. I accepted that he was a Habs fanatic and he was supportive of my love of the outdoors and animals.
Five years later, Ryan got down on one knee at our beautiful acreage and asked me to marry him. When we were planning our wedding, it was important to us that we make all of our guests comfortable and so we opted for a casual, country wedding. We had many guests travelling a significant distance, and they had not been to the Busby area before. Most of our family and friends camped nearby and we were very excited to show them the parts of the area that we loved most.
We had an open house on Friday before the wedding to see many of our favorite people who had traveled so far to see us. Then we kicked everyone out, and I got to have a sleepover with my girls and late-night dance practice with my Dad in the kitchen. It was lovely to have our stylists come to the house in the morning so us girls could have a relaxed breakfast in our matching PJ's and settle our nerves together.
Our ceremony was held in the stunning yard of some very special family friends, just a few miles from our place. We wanted all of our nieces and nephews to be a part of our day so we had numerous flower girls and ring bearers! We were fortunate to have the opportunity for our parents to share blessings over us, and to have all of our favorite people there on a beautiful, warm day. My dad made both of the arbors for us, one of which can stand in our garden for years to come.
Our favorite part of the day was being with our entire bridal party, being chauffeured by our awesome neighbor in his air conditioned motorhome for photos. Of course, we had to get some pictures where it all started – on the baseball field. And yes, I still love that butt as much as I did the first time I saw it! Our photographer Amara was amazing at making everyone feel comfortable, and the images she took truly capture our fun-loving spirit and the kind of couple we are.
Our reception was held at a local school, as the fenced in playground allowed all of the kiddos to run around outside. We went with simple table decorations that made for easy clean-up! We wanted a woodsy, backyard feel. My dad made all of the wood centerpieces that then became favors for whoever wanted to take them home, in addition to our seed paper dill and basil pots. The Caesar bar during cocktail hour and chili-dog midnight lunch were huge hits and our guests are still talking about them!
Our dance lasted into the wee hours of the morning, and our faces were sore from laughing together all day! Us two Teske's had a beautiful, relaxed day that we will remember for years to come!"
Congratulations Colleen and Ryan, we wish you all the best!!!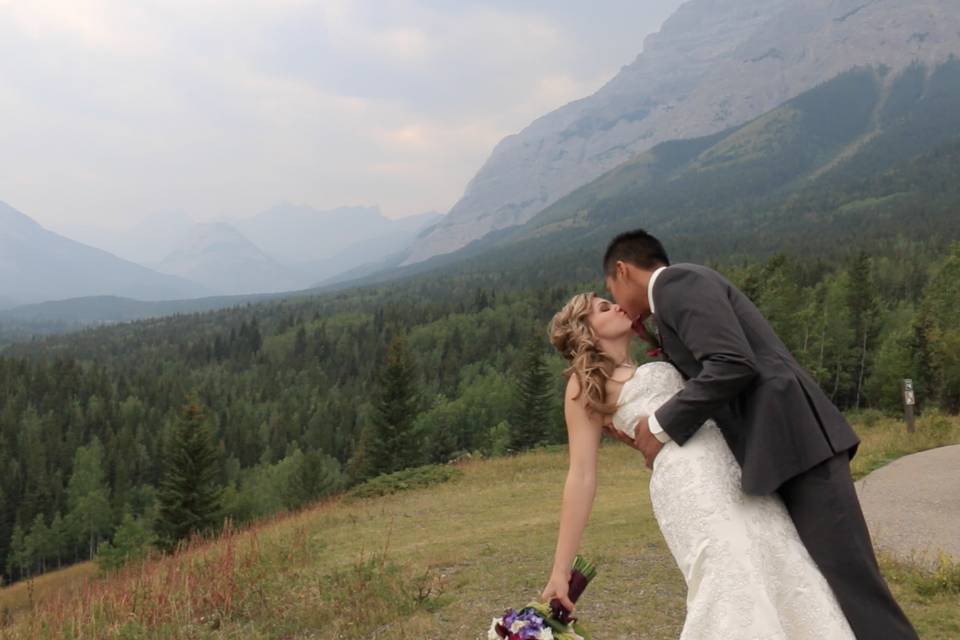 Vendors
Photographer: Amara Dirks Photography // @amaradirksphotography
Hair: Shadified Salon (Jeannine Bjornson) // @shadified Make up: Denise Sturkenboom & Brittany Van de Ligt
Florals: Flower Barn and Costco
Dress: Your Wedding Place (Bonny Bridal) // @your.wedding.place // @bonnybridal
Suit: Derks Formals // @derksformals Ceremony: Friends back yard
Reception: Legal, Alberta