I am so excited for you all to see this DIY Edmonton garden wedding! I know we are all ready for spring to get here so this wedding photographed by Photo Junkies Photography is so fitting. A beautiful ceremony took place at Hastings Lake Gardens and what a perfect location that was. It was filled with stunning flowers and gorgeous scenery. Definitely give it a look if you are planning a wedding in the Edmonton area.
Erin and Mark's wedding day was filled with so many amazing DIY projects. Erin definitely put a lot of time and attention into all of the details of their wedding. She did all the florals, centerpieces, cupcakes and cake just to name a few. This wedding shows you that if you have the drive and dedication a beautiful DIY wedding is totally possible!
Photo Junkies Photography Shares…"The day started at the beautiful Renaissance Hotel (by the Edmonton international Airport) with the girls being pampered by the wonderful girls from Beauty on the DL. The boys had a relaxed morning back at E&M's home in Beaumont. When it was time for the first look, Mark waiting patiently on the staircase in the Renaissance Hotel for his stunning bride-to-be. After some photos (and a quick beer!) we all headed to Hastings Lake Gardens where Mark & Erin were to tie the knot! Hastings Lake Gardens has a stunning array of colors and flowers surrounding a beautiful gazebo that just shouts romance. We took advantage of how gorgeous the gardens are and captured as much as we could in our time there.
Erin and Mark DYI'd the reception decor including the wax wall backdrop (just gorgeous for photos!), the centerpieces (they cut down a huge birch tree themselves!!), table numbers, seating chart, and the photo booth. And if that wasn't enough, Erin also did all the floral arrangements, the cupcakes, and cake, proving that you can do it all while being one of the most relaxed brides ever. To top it all off, for their first dance Mark and Erin foxtrotted across the dance floor wowing us all with their dance skills."
Proposal Story From The Bride, Erin

Mark and I traveled to BC to visit my father's family for Easter 2015. On the drive back home, we stopped to walk Walter at MT Robson. While resting at a lookout, Mark got down on one knee and purposed. I pulled him up, punched him in the chest and said Yes! I guess over Easter he had also asked my dad's permission.
Highlights From The Bride, Erin
Our entire day was so laid back and smooth, it is hard to pick a highlight. We had so much fun taking all of the photos. Photos were our priority and they turned out amazing. Each venue provided amazing backdrops to work with. The slideshow and speeches stood out to me of course as well.
Advice From The Bride, Erin

Don't be afraid of DIY – You can easily save money, and its fun. All of our decorations turned out beautiful. Writing a detailed schedule of the day for all the services and events was also very helpful. No one was being questioned about the day, because everything was laid out in detail ahead of time. It allowed as to just enjoy ourselves and be in the moment.
Congratulations Erin and Mark!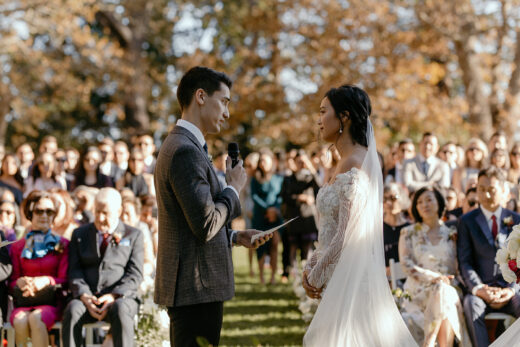 Vendors
Photography: Photo Junkies Photography // @photojunkiesdotcom
Hair & Makeup: Beauty on the DL // @beautyonthedl
Wedding Dress: Mori Lee // @morileeofficial
Music/DJ: Advanced DJ Services
Getting Ready Venue: Renaissance Hotel (Edmonton Airport) // @renhotelyeg
Ceremony: Hastings Lake Gardens
Reception: Southwood Community League