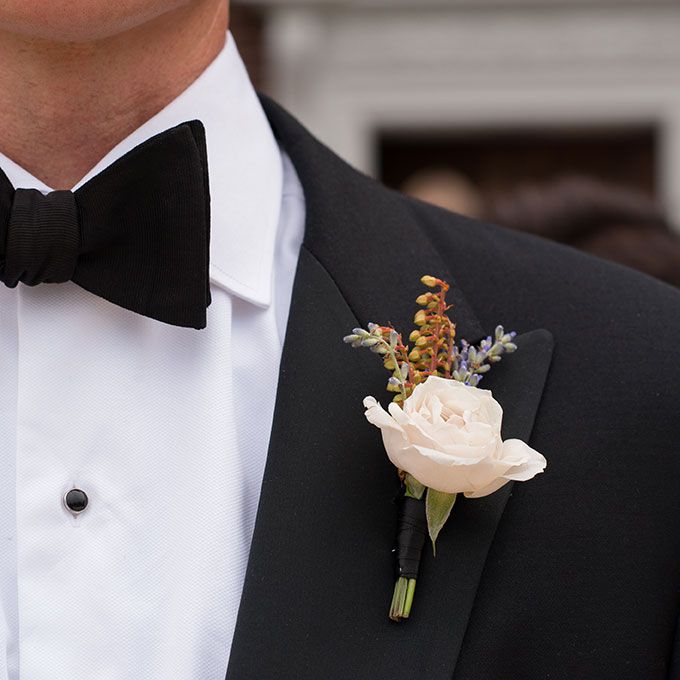 Are you looking for ways to cut costs on your wedding or looking to add some personal touches? Here is a great D.I.Y. to make your own boutonnieres. This Tutorial is super simple but the final results are beautiful! And the best part is its totally budget friendly.
Step One: Gather your tools
Flowers and greens of your choice ( We used Roses, Lily stems, Hawthorne Berries, Ferns, Pussy Willows and some random greenery filler. )
Hot glue gun
Floral tape
Wire cutters and scissors
Yarn or ribbon of your choice
Step Two: Start with your greenery and snip to length. Arrange it to your liking. Once you have arranged it to your desired look, wrap with floral tape.
Step Three: Now add your additional florals or details until you achieve your desired look. Once you like how it looks wrap all stems together with more floral tape.
Step Four: Pick your decorative wrap. Here we are using a piece of yarn but feel free to use ribbon or whatever you like. Cut a generous amount of yarn, we will trim the excess off after.
Step Five: Use your glue gun and put a strip of glue along the back of the floral tape and start wrapping your yarn around the stems.
 Step Six: Once all the yarn is wrapped nicely around the stems, trim excess yarn off and secure with a dab of hot glue. 
That's It! Your all done.  This wedding project was so budget friendly and easy. Here is our breakdown of the total:
Silk Roses – $1.49
Lily Stem – $ 1.49
Hawthorne Berry – $2.99
Fern spray – $1.99
Stem filler – $3.79
Pussy Willows – $2.99
Floral tape – $3.79
Ribbon set of 5 Navy – $4.19
Yarn – $1.49
That is a grand total of $24.21 and we still have so much left over! So check back soon to see the awesome corsages we make with the left over florals.
If you made your own boutonnieres we would love to see them, comment and leave a picture below!