The Proposal: On February 7th, 2015 Kimber and Kris both woke up to a day of excitement and nerves. They took a bus to downtown Las Vegas,to a building that would change their lives forever. Kris made Kimber suit up in some very tasteful coveralls, a harness and GoPro on her wrist. They then took an elevator up to the 108th floor and made her stand at the edge of a decision that she would never forget. At a height of 855 ft and what felt like the edge of the world, Kris leaned in and whispered in her ear, "You know the feeling you have right now, I want you to feel like this forever." He then got down on one knee and and opened a purple box. Without hesitating, Kimber jumped repeatedly while clapping her hands in excitement as she said "Yes". The plunge they took off of the building was no comparison to the one Kris and Kimber took that day together. (Stratosphere Sky Jump).
For all those of you currently planning a winter wedding, you won't want to miss this post. This wedding really shows how perfect a winter wedding can truly be. Kimber and Kris were married in early March and the expectation was that this would be prime time for some snow, mixed with warm(ish) weather. They were blessed with warm weather, but a little lacking in the snow department. Snow or not, everyone had a blast.
After the usual wedding day morning ritual of primping, prepping and polishing, Kimber was ready to marry the man of her dreams! The wedding ceremony took place at the Enjoy Centre. Kimber & Kris used the Park Room, the earthy greens and wood accents made for a beautiful backdrop. The reception was held at the Polish Hall. The reception had beautiful and subtle hints of winter. The couple also had an AMAZING candy apple wedding cake, definitely a new favorite of ours. This hall had a gorgeous and huge stone fireplace, how perfect for a winter wedding?
Huge thanks to Photo Junkies for the all the photos and details of this special day and congrats to Kimber & Kris on their beautiful day!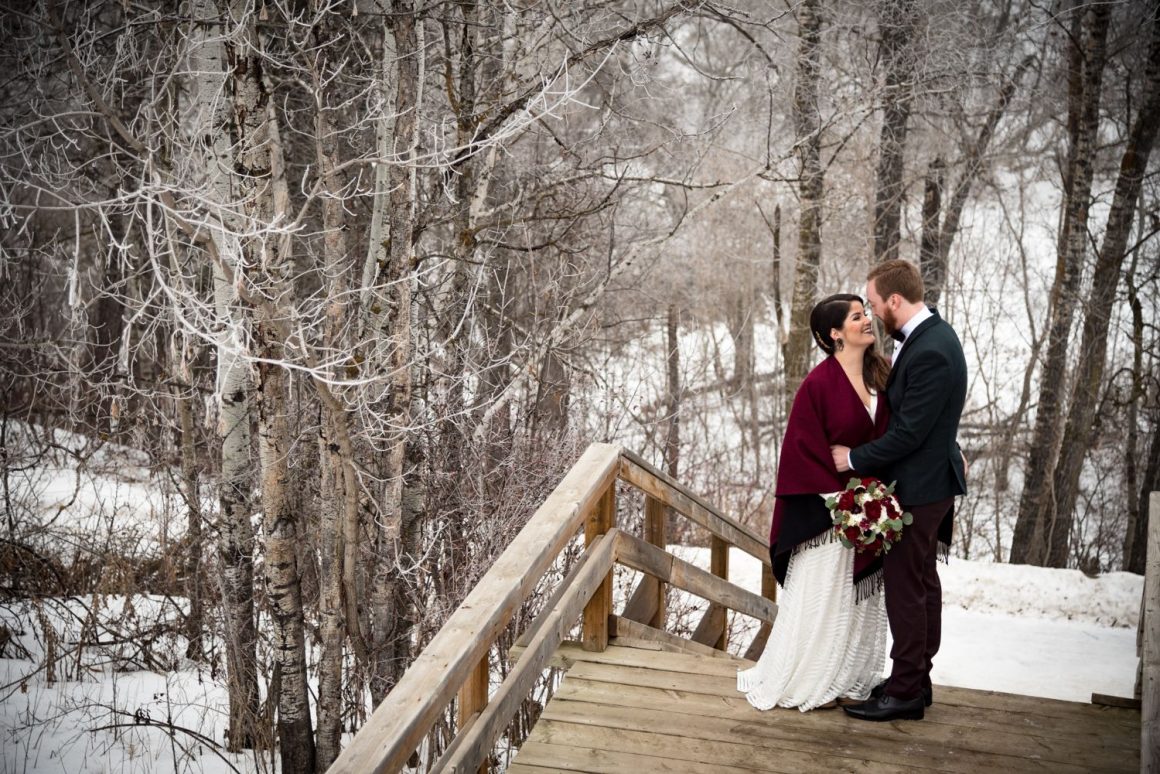 Photography- Photo Junkies
Hair –Shellie McCready Make up- Kristen Noonan
Ceremony- Enjoy Centre // Park Room
Reception- Polish Hall //Kingsway Room
Flowers- Holes Flowers (Enjoy Center)
Caterer- Polish Hall
Candy apple cake- Rocky Mountain Chocolate Factory (West Edmonton Mall)
Brides dress- The Bridal House //Designer-Allure
Bridesmaids dresses- The Bridal House // Designer- Alfred Angelo
Brides jewelry- The Bridal House
Bridesmaids Jewelry- Metal Smith's
Groom & Groomsmen suits- Moores (137 Ave & 40th st)
Linens- ABC Weddings
Back drop flowers-The Paper Wedding by Carmen