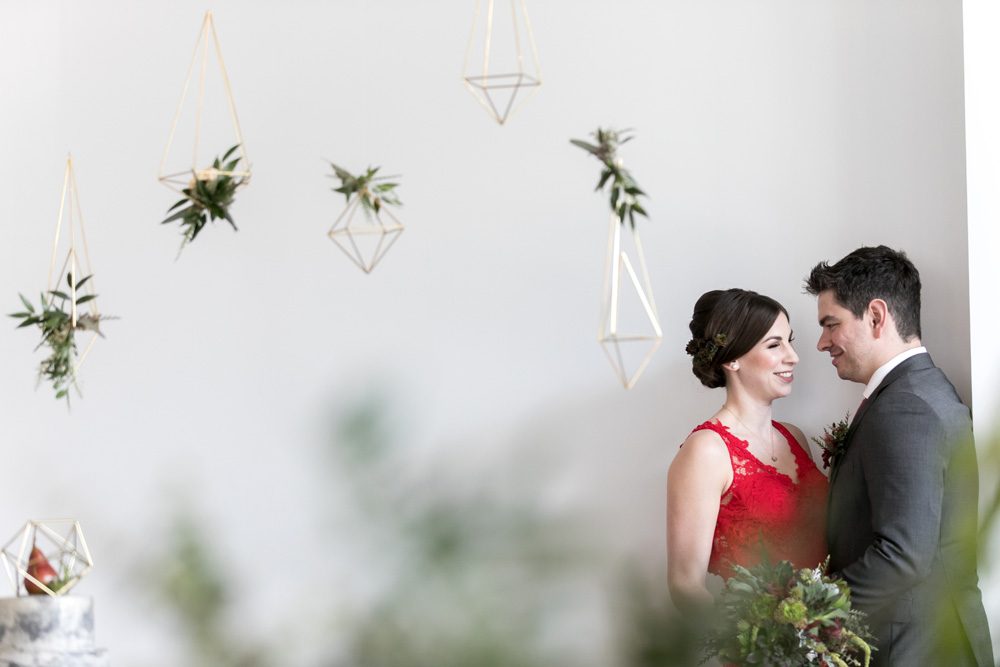 If you are looking for one of a kind wedding inspiration then today you are in luck because this concrete and industrial feature is beyond amazing! Rad Occasions really put an incredible vision together and the details are so unique. There was a lot of thought and time that went into this shoot that I can't wait for you all to see the stunning gallery. Plus who doesn't love a striking red dress?
Rad Occasions shares with us…The inspiration for this shoot came from a dream – literally! I (Rad of Rad Occasions) could not shake the vision of a bride in a striking red dress and cemented cake. As luck would have it I met with Susan of Cobble Hill Cake Co. and she was mentioning that she had made some very out of the box cakes such as a cement cake. A light bulb went off and I immediately asked if she would be interested in a styled shoot with the focus being around concrete and industrial elements. She whole-heartedly agreed and a shoot was born!
After this I approached Hattie of Hattie Root Photography as she had expressed interest in working together on a creative project and I absolutely love her style of photography. From there we simply had to involve Rob and his wife Waffa from Jennings Florist. Did you know he is the third generation to carry on the floral shop here in Victoria, BC? He crafted us a beautiful (and heavy!) succulent bouquet, bout, centerpieces, and provided all the greenery that was too be hung in the himmelis from Pipe Dream Creative. The soft touch of the red kangaroo paw in the pieces tied very nicely to our bride in her red dress and groom with his red patterned tie.
The stationery suite was inspired by the heart himmeli created by Pipe Dream Creative – especially with the menu in it's heart shape and even the favour tags on our edgy favours of absinthe.
Now funny story about the concrete blocks and the tile chargers in the shoot – no one rents those so I went to Home Depot to source them. The plates are even spray painted as I was not able to find the exact colour of green with any store or rental company! The pieces we did get from rental companies – such as the ghost chairs, edison lights, and himmelis all were chosen with care to tie in the industrial vibe of the venue with their polished floors – we even ventured into their parking lot for a flip side to the wedding reception.
Before I sign off here I wanted to mention the jewellery – it was created by my dear friend Lacey who moved here from Calgary a little under two years ago. She lent us an amethyst ring to act as the bride's wedding ring and a hammered piece to act as the groom's ring. She also provided a necklace for the bride with a pebble in it from Texas!
Are you loving the industrial theme? Check out this Modern Industrial Wedding.
VENDORS
Venue – Parkside Hotel and Spa
Photography – Hattie Root Photography // @hattieroot
Event Planning & Design – Rad Occasions // @radoccasions
Floral Design – Jennings Florists // @jenningsflorists
Stationery – Tickle Tree Studio // @tickletreestudio
Rentals – Designer Weddings Victoria, Envied Events, and Pipe Dream Creative // @designerweddingsvictoria
// @enviedevents // @pipedreamcreative
Cake – Cobble Hill Cake Co. // @cobblehillcakeco
Cake Toppers – Lumota and Gather Marketplace // @lumotadesigns
// @gathermarketplace
Dress Store – Blush (Victoria, BC) // @blushvictoria
Dress Designer – Pronovias // @pronovias
Suit – The Bay // @hudsonsbay
Bridal Accessories – By LaceyJanette // @bylaceyjanette
Groom's Accessories – Outlooks for Men // @outlooksformen
Makeup – Artistry by Alexa // @artistrybyalexa
Hair – Jessi Carr of Hunt & Gather Hair Co. // @huntandgatherhaircompany