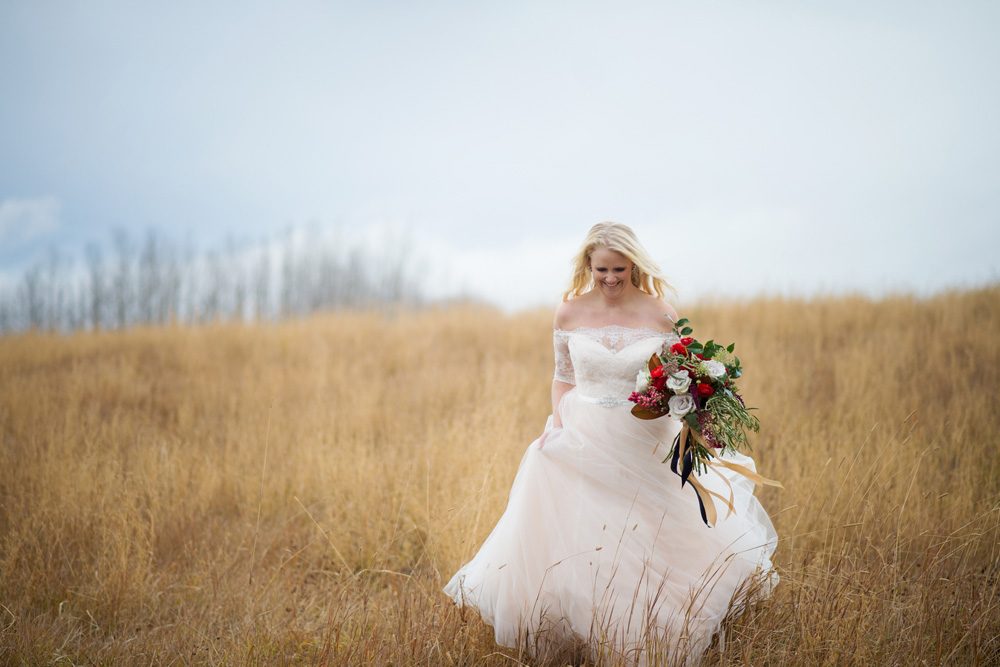 The feeling I get when I look through today's cloudy fall bridal feature from, Christy D. Swanberg Photography is obsessed! The thick clouds add a little romantic touch to this already gorgeous shoot. We are so lucky to be living in western Canada and to have all these special little location gems, like this simple yet perfect farmers field.
If you are not sure whether or not you should be considering a bridal shoot, this gallery will have you deciding that it is a must! For anyone wondering what exactly is a bridal portrait session, I will give you a little break down here. So, to start with, having a bridal session is total personal preference but it is starting to become way more popular. A bridal session is when a bride gets all glammed up in her wedding day attire before the wedding (a perfect time for this can be the day you get your hair and makeup trial done) and has her session with the photographer. A few perks to booking a session like this is you can have more time for all the images you want, you are in less of a rush so it is way more relaxed atmosphere and you can have full control over location, time and any other details. You will get to see how this all comes together in the gallery below and why I love this idea so much!
Christy D. Swanberg shares…Bridal portraits are becoming more and more popular here in Canada. Here in the rocky mountains you never know what kind of weather you will get, so my bride to be and I just drove until we found the right field and cloud coverage. We are fortunate to have and un-endless amount of farms and open fields here in Alberta.
Would you consider getting bridal portraits done for your wedding? Let me know in the comments below! And if you are still on the fence here is a little more inspiration, Boho Bridal Session.
VENDORS
Photographer – Christy D. Swanberg Photography // @christydswanbergphoto
Floral Designer – Amborella Floral Studio // @amborellafloral
Dress Designer – Tara Keely // @tara_keely
Dress Store – Novia Mia Bridal // @noviamiabridal