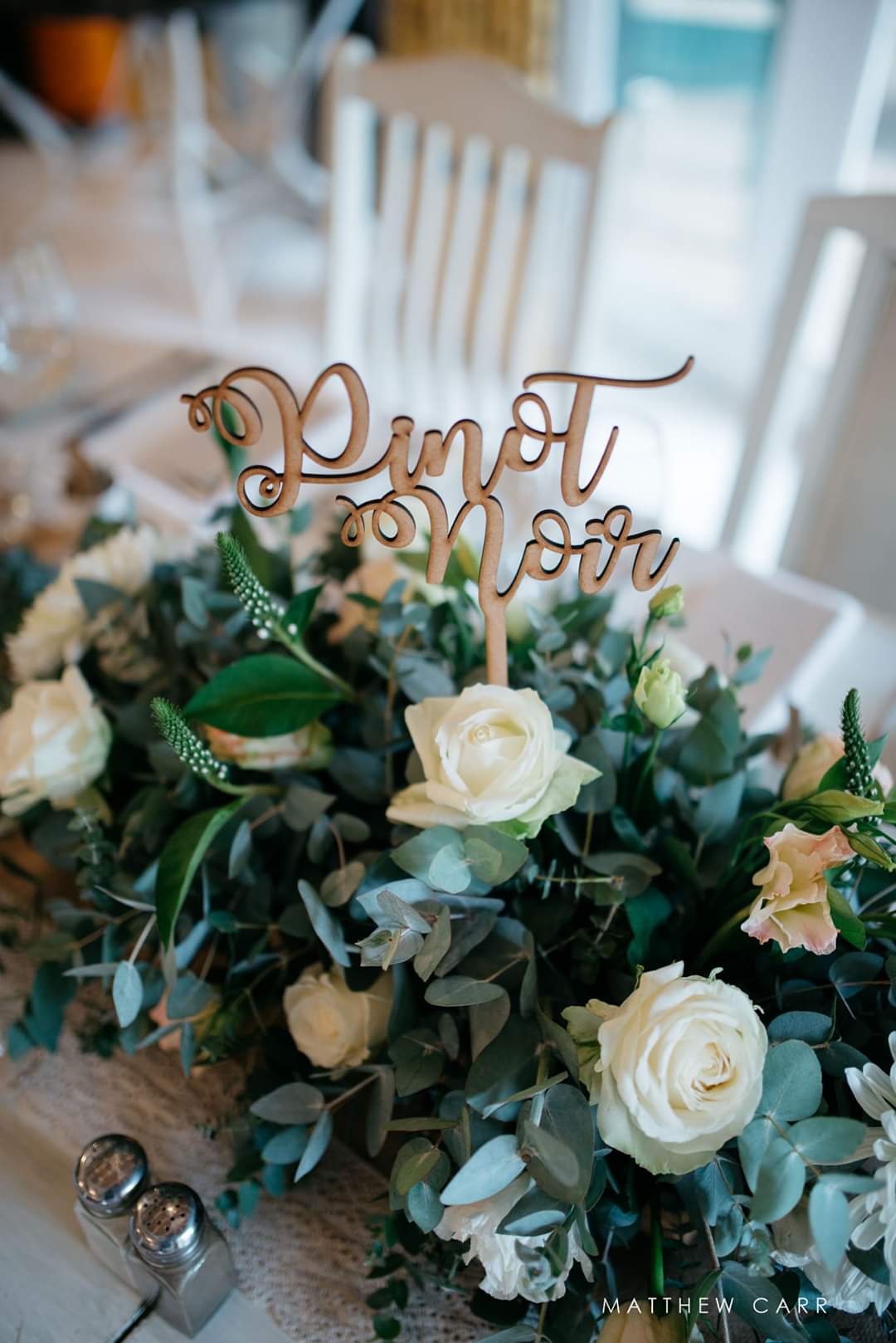 Planning a wedding can be a lot of stress, but it can also be a lot of fun. From picking your dress to cake tasting to finding the perfect wedding invites, wedding planning can be a chance to explore and express your personal style. It also means planning an awesome party. In today's digital world, that means thinking up fun activities that your guests can enjoy on and off the dance floor. So many wedding trends are now a mainstay, like opting for cupcakes instead of a cake or the clever wedding hashtag. Another fun trend is the wedding photo booth. It's a great way to supplement your traditional wedding photos, not to mention give your guests something to laugh about later. To help with the fun, Shutterfly created free wedding photo booth props in a variety of different themes and styles. There's a nautical theme for your picturesque Cape Cod wedding or emojis that everyone will love. Check out all of the props on Shutterfly's site or browse below!
Words on a Stick
Give your guests something to laugh about with these awesome words on a stick props. Encourage your guests to get creative and silly with props like "I came for the cake". These props are sure to please any crowd!
DOWNLOAD NOW
Winter Wedding Props
Winter is coming and if you are planning a winter wedding these props are for you! These winter wonderland props include seasonal treats like gingerbread men and hot cocoa!


Spring Wedding Props
Spring is always a beautiful time of year so it is nice to include some pretty props to go along with your day. This package includes; spring flowers like tulips, daffodils, peonies and cherry blossoms for props.
DOWNLOAD HERE
Summer Wedding Props
Get your guests to fully embrace the summer time spirit with some of these props. Included are tropical beverages, seasonal fruit and bright sunglasses props. These also make great props for summer bbq's.
DOWNLOAD HERE 
Fall Wedding Props
We love all things fall so don't forget to download this fall frenzy pack. It includes seasonal sweets like pumpkin pie and beverages.
DOWNLOAD HERE 
Classy Masquerade Props
Fill your photo booth with a little glitz and glam using these pretty masks and champagne props! Who wouldn't love a masquerade theme?
DOWNLOAD HERE 
Nautical Props
These fun nautical props include a captain's hat, anchor and lobster.
DOWNLOAD HERE
Animal Props
These props are perfect for guests of all ages. Get creative and dress up like your favorite cuddly and cute animal or try and find your inner spirit animal. This download includes an elephant, giraffe, cheetah and more.
DOWNLOAD HERE
Emoji Props
Have your guests express some of their excitement and love for you on your wedding day with these fun and crazy emojis.
DOWNLOAD HERE
Snapchat Filter Props
I would have to say hands down this is my favorite package of props! I love playing around with Snapchat filters so, why not include them at your photo booth?
DOWNLOAD HERE
Retro Props
Pay tribute to iconic decades like the 60's, 70's, 80's and 90's. Throwing it back to these fun years will encourage guests to think back to their favorite decade and show it off in their pics.
Now that you have been able to browse Shutterfly's prop collections and decide what ones you want to use, here is some tips and instructions to help you.
The materials that you will need are; Heavy card stock, lollipop sticks or small wooden dowels, glue gun, scissors, printer and your favorite collections.
Once you have all your files downloaded and ready to go, load your printer with heavy card stock and make sure you change any settings you made need too for printing on heavier paper. Then begin printing. After all your images have printed make sure to give them a few minutes to let any ink dry, then you can start cutting the props out. After you have finished cutting your props use your glue gun and start gluing them to your sticks or dowels and let the glue dry. Then you are finished!
If you have tried this DIY tutorial or any others from Style Inspired Weddings please send us a pictures, I love seeing your projects! To share using Instagram, please use the hashtag #styleinspiredweddingsdiy.