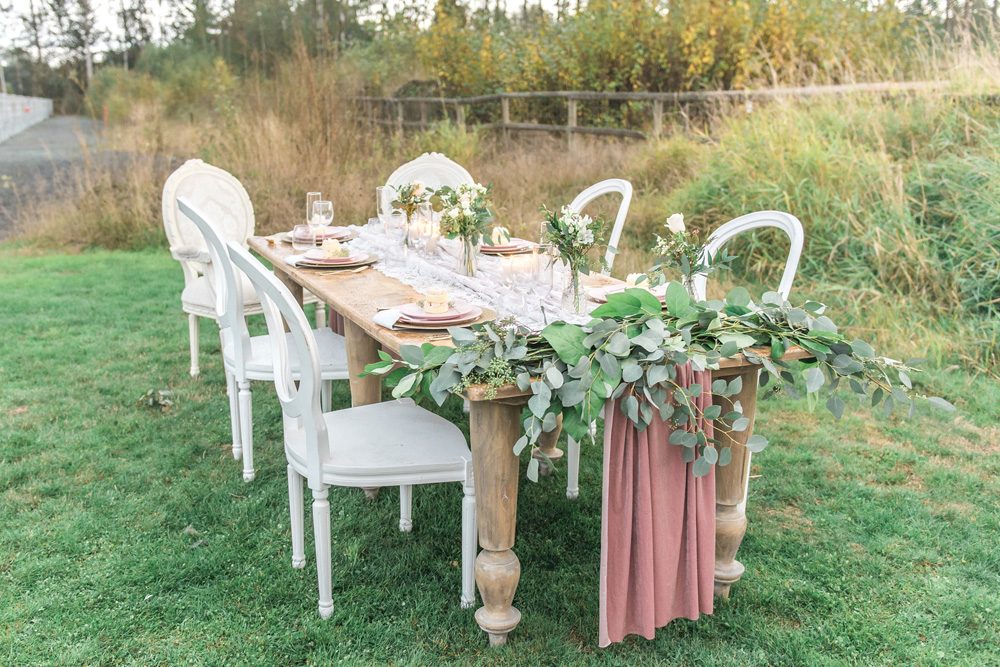 Details, details and more details is what this soft and romantic shoot is all about! With a colour scheme of pink and gold, you can't go wrong. Plus the shoot was set up and surrounded by the prettiest scenery at High Point Equestrian Centre.
If you are looking for any wedding day inspiration, look no further this feature is for you. Starting with the stunning stationery. The whole suite was in muted pink tones and it worked perfect to give this shoot a soft feeling. Never underestimate the power of gorgeous stationery, it totally sets the first vibe of the wedding.
Now lets talk about all the bridal details, like how amazing her gown is. A simple corset bodice and lace skirt kept this bride looking simple yet super elegant. Another great detail is she wore a gold bar necklace with the wedding date engraved on it. It is the little details like that, that make the best mementos.
And now onto the gorgeous styling of the harvest tables. For one I am already obsessed with harvest tables but then when you style them with pink velvet and lace, you have me swooning! This table is full of texture. To keep with the colour scheme they used pink dishes and gold chargers to help elevate the look even more. But they didn't stop there, they topped each place setting with a handmade, calligraphed place card and a dinner menu….hello Gorgeous! The final detail is the absolute best though, each guest also had a mini cake on their plate in place of a traditional large wedding cake.
L'Estelle Photography shares…This shoot features an outdoor wedding at an equestrian centre, among horses and fields and is kept current using the popular color scheme of pink and gold with a soft and romantic feel. We used long harvest tables and kept the centerpieces as bud vases in order to both compliment the surroundings and not take away from the natural beauty of the venue.
Get your Pinterest boards ready because you are going to want to pin everything from the feature.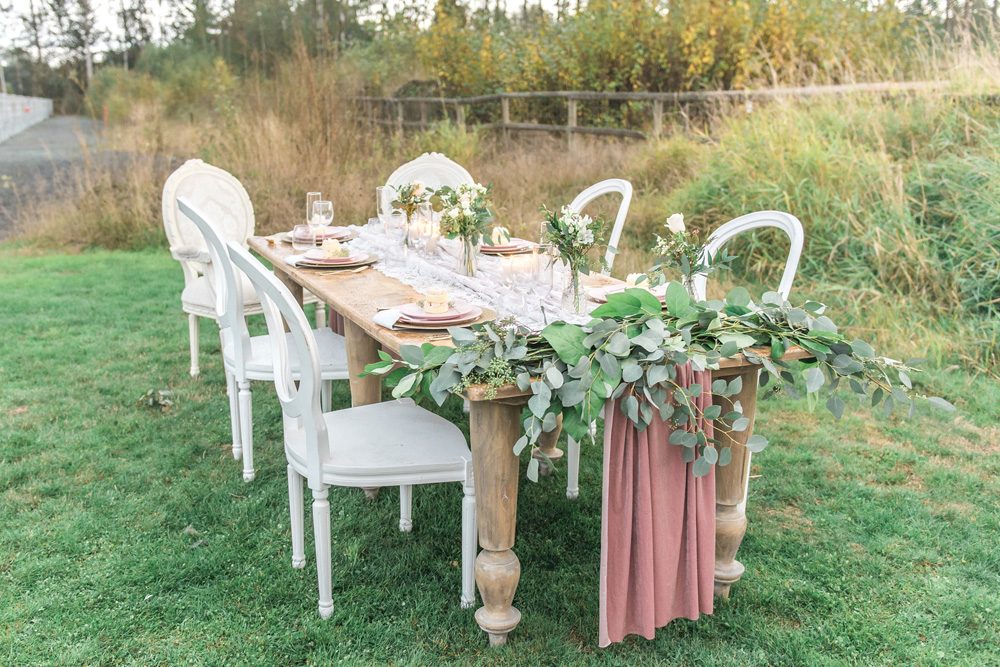 Do you love a pink colour scheme just like this one? Then check out this Red Deer wedding for more inspiration.
VENDORS
Photographer – L'Estelle Photography // @lestellephotography
Dress Designer – Kathryn Bass Bridal // @kathrynbassbridal
Jewelry – GIGIMEY // @gigimeyjewelry
Makeup Artist – Kelly Newman Makeup // @kellynewmanmakeup
Event Designer – Revamp Event Rentals // @revamp_event_rental Model – Estelle
Calligrapher – The AYLA View // @aylapena
Floral Designer – Budget Blooms // @budgetblooms
Cake Designer – Hello Sunshine Cake Studio // @hellosunshinecakestudio
Event Venue – High Point Equestrian Centre
Event Planner – Create Weddings and Events // @createweddingsandevents