I am so in love with today's real wedding feature from Christy D. Swanberg Photography. The happy couple Alaina and Matt did such an incredible job creating a wedding that was totally unique to themselves. They prove you can have the wedding of your dreams no matter the circumstance.
Alaina and Matt wanted a beautiful mountain wedding but decided they didn't want to make their family travel out of Calgary. So, they brought their mountain wedding to Calgary. It was the best of both worlds. They chose the Shannon Terrace's amphitheater, in Fish Creek Park for their outdoor ceremony. Then, they found the Rotary House at the Calgary Stampede and it was just like being in mountain lodge. How perfect is that? Everything was exactly how they envisioned it.
Lets move on to the stunning decor of this wedding. Modern yet organic was the theme through out their decor. Alaina is the owner of Bloom Invites ( make sure you check out her amazing work! ) and she knew exactly what she wanted. They used soft white drapery to set the stage of the amphitheater. This made it feel more modern and little less rustic. The reception was just as stunning, with tables set up family style and adorned with fresh garlands of greenery. To make everything come together outside for ceremony and cocktail hour, she used vintage chairs, tables etc. It was all very elegant yet very comfortable. Make sure to check out the incredible wooden place cards Alaina created.
Christy D. Swanberg Photography Shares…"All and all, everyone felt relaxed and the focus was more about the love of the couple than it was about having over the top decor. It was a modern day brides dream come true to marry her mountain man here in the city of Calgary."
Congratulations to Matt and Alaina, I wish you all the best!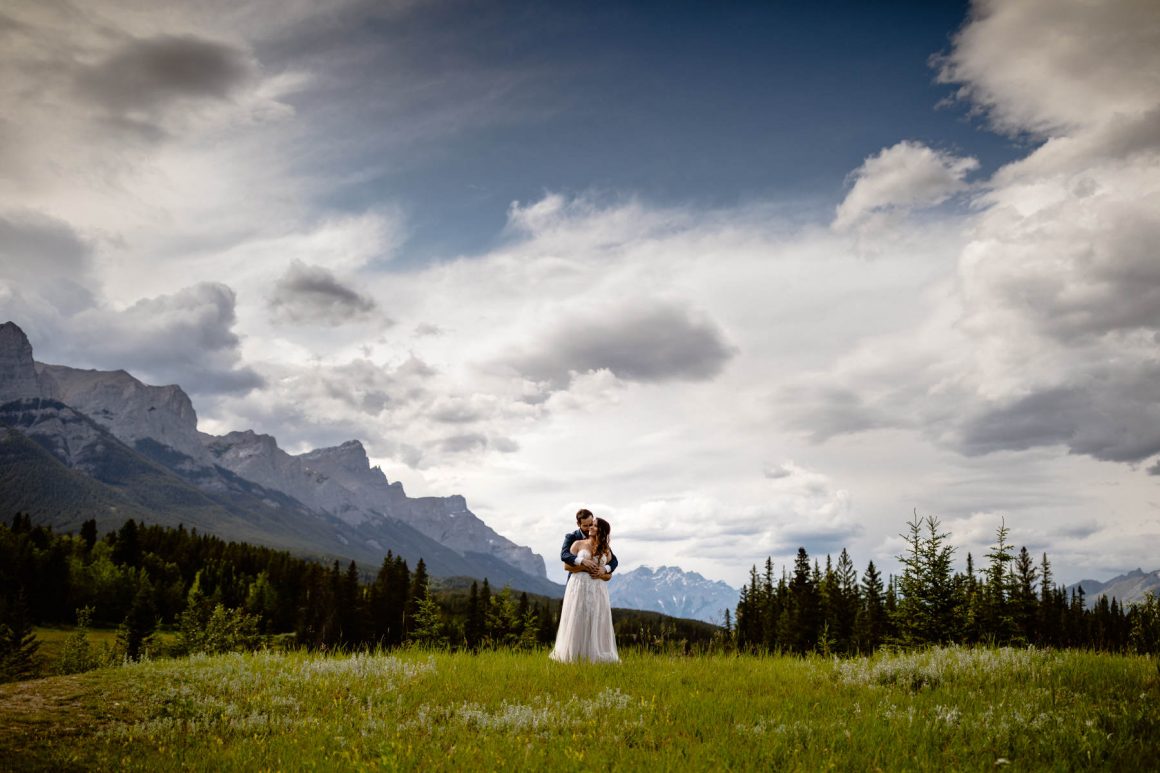 Vendors
Photography: Christy D Swanberg Photography // @christydswanbergphoto
Bloom Invites: Stationary & Event Styling // @bloominvites
Ceremony: Fish Creek Park, Shannon Terrace, Amphitheatre // @alberta_parks
Suits: Derks Formals // @derksformals
Wedding Gown: Frocks // @frocksyyc
Bridal Garments: Knickers'n'Lace // @knickersnlace
Reception: Calgary Stampede, Rotary House // @calgarystampede
Day of Wedding Coordination: Enriched Events // @enrichedeventsweddingplanner
Entertainment – DJ Pez Productions // @pezproductions
Officiant: Abby Charchun // @doublecohort
Vintage Decor: Orange Trunk Rentals // @orangetrunk
Florals: Flower Chix // @flowerchixyyc
Catering: Calgary Stampede // @calgarystampede
Wedding Cake: Whippt // @whipptcatering
Transportation: Ambassador Limo // @checkertransportationgroup
Rings: People's Jewellers // @peoplesjewellers
Makeup: Jaimie Rankin Beauty // @jaimierankinbeauty
Hair: Jenna Henderson