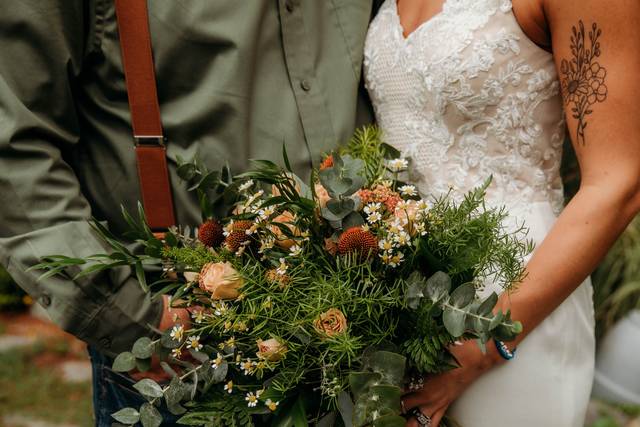 At Style Inspired Weddings ("Style Inspired Weddings"), we are committed to protecting your privacy, and maintain a general policy of openness about how we collect, use and disclose your personal information.
The purpose of this Privacy Policy is to inform you about Style Inspired Wedding's practices relating to the collection, use, disclosure and protection of personal information that may be provided through access to or use of our website, services and publications, or that may otherwise be collected by us.  BY SUBSCRIBING TO OUR E-MAIL NEWSLETTER OR USING OUR WEBSITE (the "Site"), YOU CONSENT TO THE COLLECTION, USE AND DISCLOSURE OF YOUR PERSONAL INFORMATION (AS DEFINED BELOW) IN ACCORDANCE WITH THE FOLLOWING TERMS AND CONDITIONS.
This Privacy Policy also explains how you can contact us if you have a question about, want to make a change to or want to delete any personal information that Style Inspired Weddings may be maintaining about you.  We strongly recommend that you take the time to read this Privacy Policy and retain it for future reference.
What Personal Information We Collect  For the purpose of this Privacy Policy, and in accordance with Canadian privacy legislation, "personal information" is generally defined as information about an identifiable individual, or information that allows an individual to be identified.
The personal information collected by Style Inspired Weddings upon subscription to our e-mail newsletter may include at least some of the following:
Contact information, including name, postal code and e-mail address;
Demographic information, in particular the number and ages of your children
When you provide us with your personal information, we will inform you as to why we are collecting it.
From time to time, we may ask you to provide us with more detailed information regarding your interests in order to serve you better and understand what topics may be of interest to you.  It will be entirely up to you as to whether you choose to share this information with us.
Also, if you send us an e-mail message, we may retain that message and your e-mail address, as well as any response we send you.
A Special Note About Children
Children (persons under the age of 18) are not eligible to use the site unsupervised and we ask that children do not submit any personal information to us.  If you are under the age of 18, you may only use this Site in conjunction with and under the supervision of your parents or guardians.
How We Use Your Personal Information
We use your personal information to:
Provide you with personalized services and interactive communication (the Style Inspired Weddings Today e-mail newsletter and, occasionally, e-mails we send on behalf of our sponsors);
Research, develop, manage, protect and improve those communications;
Advise you about new products and services that may be of interest to you; and
Develop and maintain our relationship with you and communicate with you.
In addition, from time to time, we may use your personal information for the following purposes:
to detect and protect Style Inspired Weddings and third parties against error, fraud, theft and other illegal activity, and to audit compliance with Style Inspired Wedding's policies and contractual obligations;
to understand your needs and preferences, including to contact and communicate with you and to conduct surveys, research and evaluations;
for any other purpose we may indicate to you from time to time.
When We Disclose Your Personal Information
Except with your consent, we will not sell, license, trade or rent your personal information to or with others.
Style Inspired Weddings may share personal information with third parties engaged to assist us in providing services (including but not limited to software development, website development and hosting, data processing, document management and office administration) to you or to carry out one or more of the purposes described above.  These service providers are prohibited from using your personal information for any purpose other than to provide this assistance and are required to protect personal information disclosed by Style Inspired Weddings and to comply with the general privacy principles describes in this Privacy Policy.
Style Inspired Weddings reserves the right to disclose personal information to a third party if a law, regulation, search warrant, subpoena or court order legally requires or authorizes us to do so.
Style Inspired Weddings also reserves the right to disclose and/or transfer personal information to a third party in the event of a proposed or actual purchase, sale (including a liquidation, realization, foreclosure or repossession), lease, merger, amalgamation or any other type of acquisition, disposal, transfer, conveyance or financing of all or any portion of Style Inspired Weddings or of any of the business or assets or shares of Style Inspired Weddings or a division thereof in order for you to continue to receive the same products and services from the third party.
Knowledge and Consent
Style Inspired Weddings COLLECTS PERSONAL INFORMATION ABOUT YOU ONLY WHEN YOU VOLUNTARILY PROVIDE IT.  Typically, we will seek consent for the use or disclosure of your personal information at the time of collection.  In certain circumstances, consent may be sought after the information has been collected but before use (for example, when we want to use information for a purpose not previously identified).
The form of consent that we seek, including whether it is express or implied, will largely depend on the sensitivity of the personal information and the reasonable expectations of the individual in the circumstances.
You may withdraw consent at any time, subject to legal or contractual restrictions and reasonable notice.  If you wish to withdraw your consent at any time, please email [email protected]. If you refuse or withdraw your consent, we may not be able to provide you or continue to provide you with certain services or information that may be of value to you
We will not, as a condition of the supply of a product or service, require you to consent to the collection, use or disclosure of information beyond that required to fulfill the explicitly specified and legitimate purposes for which the information is being provided.
Cookies
When you visit our website, we place a text file called a "cookie" in the browser directory of your computer's hard drive.  A cookie is a small piece of information that a website can store on your web browser and later retrieve.  The cookie cannot be read by any website other than the one that set up the cookies.  Aggregate, but not individual, cookie and tracking information may be shared with third parties.
Ad Serving
We use third-party advertising companies to serve ads when you visit our website. These companies may use information (not including your name, address, email address, or telephone number) about your visits to this and other websites in order to provide advertisements about goods and services of interest to you
How We Protect Your Personal Information.
Style Inspired Weddings makes all commercially reasonable efforts to ensure that personal information collected from you is protected against loss and unauthorized access.  This protection applies in relation to information stored in both electronic and hard-copy form.  Access to your personal information is restricted to selected employees or representatives. Style Inspired Weddings educates all its employees on the importance of privacy.  It is SavvyMom's policy to give access to personal information only to those employees who require it to carry out the responsibilities of their jobs or to other such third parties with similar designated responsibilities and who are subject to contractual confidentiality restrictions with Style Inspired Weddings.
Links to Third-Party Sites
This website may offer links to other third-party websites for your convenience.  You should be aware that operators of linked websites may also collect your personal information (including information generated through the use of cookies) when you link to their websites.  Style Inspired Weddings is not responsible for how such third parties collect, use or disclose your personal information so it is important to familiarize yourself with their privacy policies, which may differ from ours, before providing them with your personal information.  Style Inspired Weddings cannot be held liable for your use of such third-party websites.
Retention of Your Personal Information
Style Inspired Weddings retains your personal information for as long as necessary to fulfill the purpose(s) for which it was collected and to comply with applicable laws.  When that need has ended, your personal information will be removed from our system and destroyed in a manner that ensures your security.
Control Of Your Personal Information
At Style Inspired Weddings, we want you to be able to maintain control over how we use your personal information.  E-mail communications will always include an identification of the sender and an "Unsubscribe" option.  Should you wish to unsubscribe at any time, you may instruct us to immediately do so by clicking on the link.
Changes to our Privacy Policy
Style Inspired Weddings reserves the right to modify this Privacy Policy at anytime without notice. The Privacy Policy posted at any time or from time to time via this Site shall be deemed to be the Privacy Policy then in effect.
E-mail: [email protected]
Send Mail:
Contacting Us
If you have any questions or requests about Style Inspired Wedding's Privacy Policy or if you have reason to believe that Style Inspired Weddings may have failed to adhere to this Privacy Policy, you may contact us at [email protected].
This Privacy Policy is intended to comply with the provisions of the Personal Information Protection and Electronic Documents Act (Canada).
Last Updated:  June 14, 2016