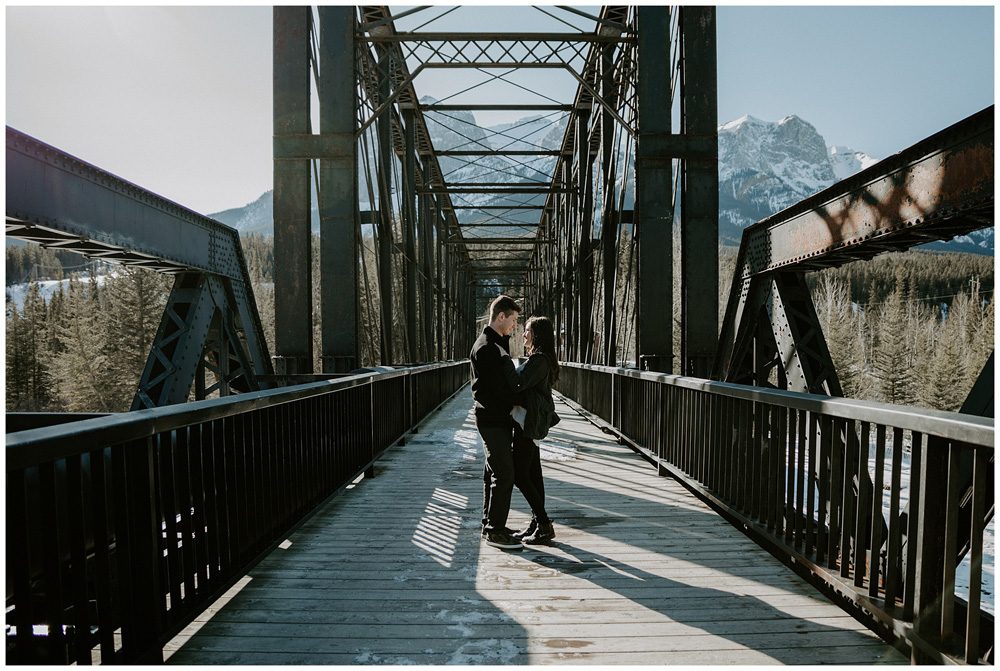 Canmore is always a popular spot for engagement photos and you will be able to see why when you see Kayla and Garrett's gallery down below. This couple chose a spot that gave them amazing views! Besides the amazing scenery this couple is seriously the cutest!
Teller of Tales Photography Shares with us…For Kayla & Garrett's engagement session they drove all the way out from Grande Prairie to meet us in Canmore at the Canmore Old Engine Bridge. This spot is always a favorite with so much variety – mountains, forest, river, and of course the bridge. Thankfully it was a beautiful, sunny day with the feeling of spring in the air.
From the couple:
How did you meet?
We met seven years ago in high school. We were good friends for about a year and a half until December 2011 when it started to turn into more, in March of 2012 it was official!
Tell us the engagement story:
Garrett moved to Grande Cache when he was a little over 8 years old, and his immediate family (mother, father, two sisters) still live there so we go up quite a bit for a visit. I had been complaining that he never took me to see any of the waterfalls or hikes in the area and he finally agreed to take me to Twin Falls (it's a short hike! if you're ever in the area you should go!) The morning before we left it was rainy and cold and I did NOT want to go on the hike anymore. We started driving towards Grande Cache and about 30 minutes out of town we hit a deer!! It was my first experience and I was so MISERABLE and mad at Garrett even though it wasn't his fault haha. If I didn't want to go to the falls before, I definitely didn't want to go now! But Garrett persisted we go. Obviously I'm happy we did because at the viewpoint of the falls he got down on one knee!
If you love a good mountain photo shoot, check out this mountaintop session. Huge Congratulations to Kayla and Garrett on their engagement!
VENDORS
Photography – Jennine & Rob from Teller of Tales Photography // Teller of Tales Photography