We love nothing more than receiving a truly unique Alberta wedding so, when this wedding found its way into our inbox we were so excited. Cristal King Photography was super lucky to get to capture this laid back DIY farm wedding. The bride Lauryn looked beautiful in a draped ballgown skirt in blush paired with a white ballet tank that her aunt made for her. How amazing is that?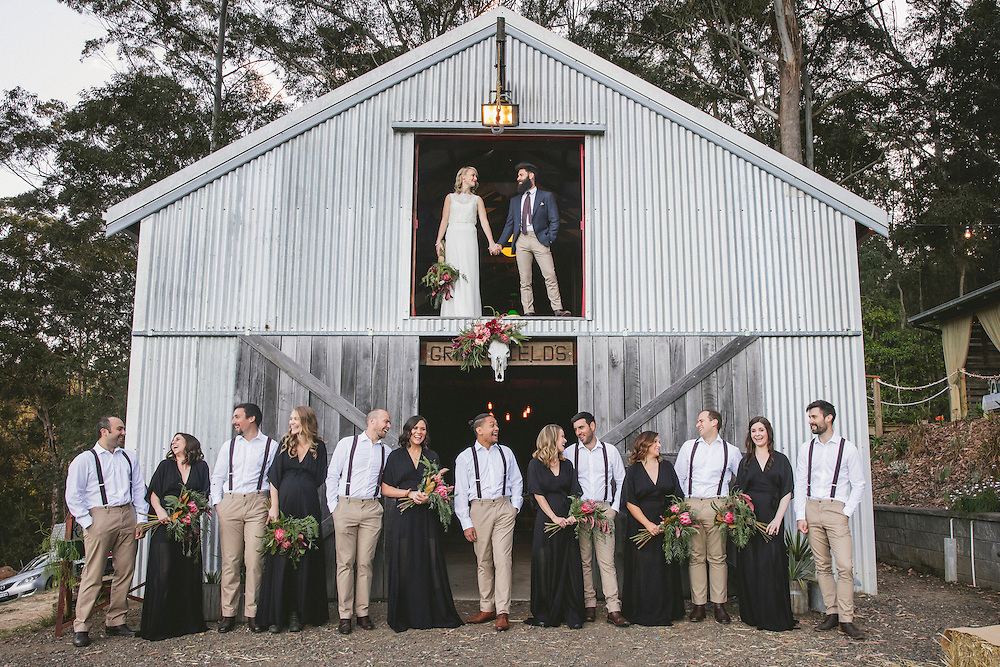 Cristal King shares…"Lauryn & Brett's wedding day had a completely different charm all of it's own that was completely unique to any wedding we have photographed so far and made it especially memorable! It was held on her family farm and put together with such love and creativity! It seems everyone in their life banded together to throw this laid back farm wedding! It was windy and POURED on their wedding day but it couldn't have felt more warm and cozy! If you ever get the chance to meet Lauryn you will understand why so many volunteered to pull together her wedding. Friends helped her with her bridal prep and it was far from the average wedding look! I still can't stop thinking about that skirt!!! They had their first look on little bridge in the yard despite the rain since it was a very sentimental spot! After a few photos in the dry warm barn, they had a very intimate ceremony. The reception was held in their quonset and was packed!!! Seeing Lauryn & Brett interacting with their guests you could tell why they are so loved! The rainy day actually let more friends be able to attend since farm work was at a bit of a standstill due to the rain. No bride loves rain on her wedding day and this was definitely not exactly what Lauryn had in mind for her wedding day but you couldn't tell, she was the most gracious bride and never let the rain affect one minute of her enjoyment of her day, even sneaking out with us again later in the evening to have a few more photos in between the raindrops! I will never forget the grace that she displayed on her wedding day coupled with a good sense of humour! I hope I can weather storms with even half of her grace!"
From Lauryn…"All the décor was stuff around the farm or my personal collection of unnecessary junk (think tea cups) that I either made and/or stuff my brother and step sister had made/bought from the post and left over from their weddings. The bar was made by my step sisters husband (Mitch Payze) for their wedding out of pallets. The door backdrop was from my sisters catalog home. Favors were s'mores with those fire pots. But I forgot about those until like 11. Cake was made by my step sisters (Ali Payze and Dani Mattson). Which was also cinnamon buns. Instead of cake (I hate cake)."
This wedding will definitely inspire you to plan a small, intimate and unique wedding that your family and friends will be talking about for years!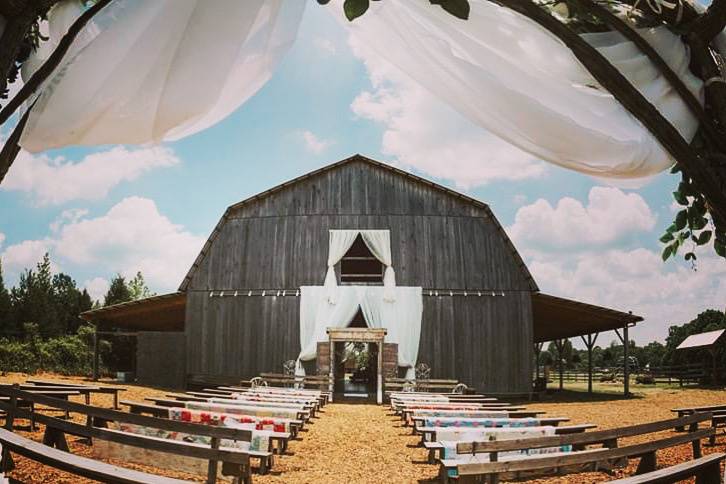 Vendors
Photography: Cristal King Photography // @ck1photos
Wedding Dress: The bride's aunt ( Lynn Hopkins), inspired by Carol Hannah
Make Up: La Rouge Beauty Boutique (Megan Eppen) Hair: Kim Stockwell (she's a friend and did it for free)
Shoes: Lammles // @lammleswesternwear
Neclace: Sugglit (Lloydminster) // @sugglit
Ring: Ben Moss
Flowers: Costco and a friend grew the glads & sun flowers
Table & Chairs: Whitla Hall(Seven Persons)
Food: Made with love by family