We all know planning a wedding can get quite expensive and being a bridesmaid isn't cheap either! So, here are some great tips to help save your awesome ladies some money.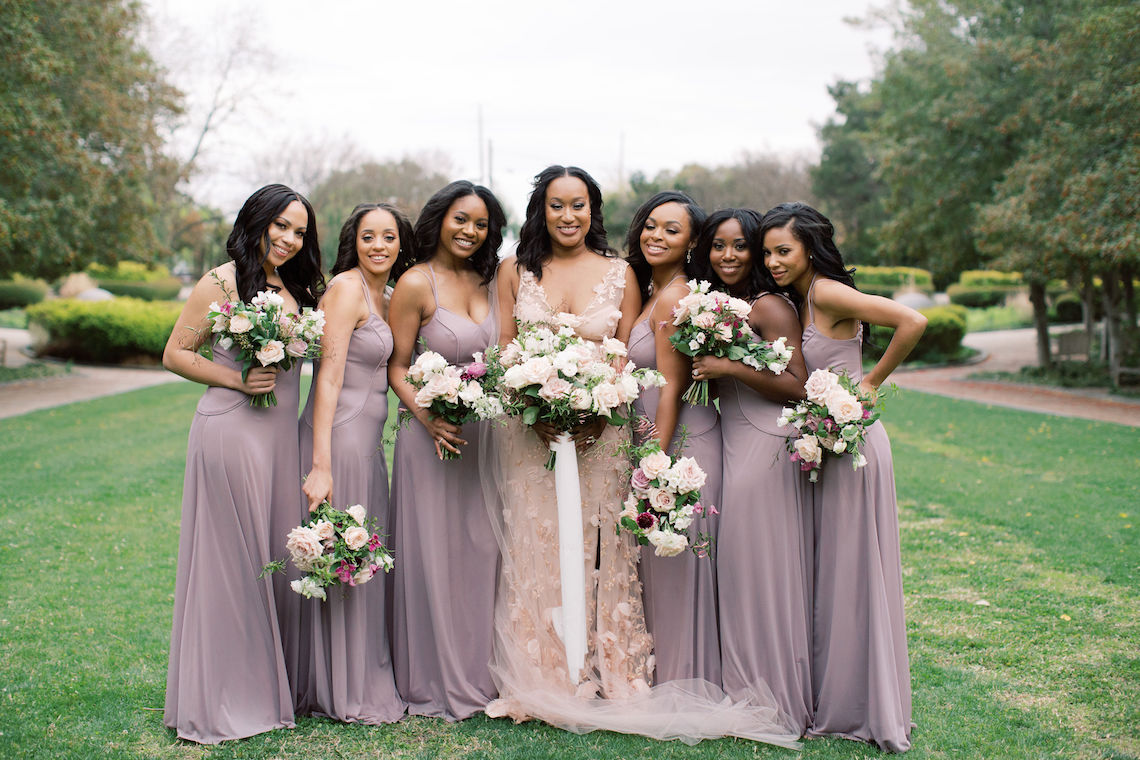 Let them choose their own dresses – Since mix and matched bridesmaids dresses are so on trend right now this tip is a super easy one to help your gals save money. Give them guidelines as to what colors and styles they can choose from. Giving them the option to choose helps them stay within their budget and find a dress they will love.
Skip the alterations – If you your ladies had their measurements professionally taken they may not need any alterations. Most dresses won't fit 100% perfect but most will fit extremely well for that one time wear. Have them try the dress on for you and decide if alterations are absolutely necessary. Also make sure you choose the correct undergarments, this can make the dress fit even better.
Let them pick their shoes – There's no need to make all your girls buy the exact same shoes especially if their dresses will be covering them. Again, we would suggest just setting some guidelines on colors you'd prefer and let them pick a style that is comfy for them. We bet most of your gals already own a pair that could work perfect!
Let them do their own hair – Pick a simple hair style that your maids could do themselves. Right now relaxed, loose, wavy, beachy curls are in and the best part is they are super easy to do. If you want to add a little glamour to the simple hairstyle look into adding a flower crown, sparkly comb or just a pretty flower. Tips for your girls when doing their own hair: Day old, unwashed dirty hair curls best, use a good curling iron/wand (preferably a professional one ex: Hot Tools), get a good thermal protector spray ( CHI 44 Iron Gaurd and Kenra Thermal Styling Spray are a couple of good ones to try) and use a good hairspray to set the curls so they will hold all day ( CHI Helmet Head Hair Spray is good one to try). If you are interested in seeing any easy hair tutorials let us know in the comments below!
Give them practical day of wedding gifts – Giving your maids gifts that they can use the day of your wedding is a great cost saving tip. Whether you buy them jewelry to wear, pay for their hair, make up, alterations or even dresses anything will help them save money and stay on a budget. And if you are on a tight budget for gifts make sure to check out Black Friday, Cyber Monday and Boxing Day sales. One thing I did when I got married was found a Baublebar sale, picked a bunch of pieces I liked then sent all the options to my bridesmaids and had them pick from my selection. Total win-win situation, I knew the jewelry would fit my weddings theme but the girls got to still pick something they could wear after the wedding and that they liked.
Let them skip the gifts – Having your girls love, help and support should be a great enough gift. Let them know that just having them with you through this wedding planning adventure is the only gift you need. Trust us once the wedding is done you will be so thankful to have had those ladies by your side helping with all the details!
Look into alternative accommodations – If you plan on travelling or going away for your bridal shower or bachelorette party check out some private rental options instead of hotels. VRBO is an awesome site with some great deals. Most places are cheaper than hotels and all you girls can be together in one place. Also with renting a place you have the option to cook for yourselves. Grab some groceries, like easy breakfast or brunch foods and save money by not having to eat out 3 times a day.
We hope some of these money saving tips help you save your awesome bridesmaids some money. If you have any ways to help save bridesmaids some money let us know in the comments below!